BACON WRAPPED JALAPEÑO PEPPERS STUFFED WITH CREAM CHEESE
BACON WRAPPED JALAPEÑO PEPPERS STUFFED WITH CREAM CHEESE
You'll love these bacon wrapped jalapeño peppers stuffed with cream cheese and shredded cheddar. Similar to jalapeño poppers except that these are low-carb, keto, and baked in the oven.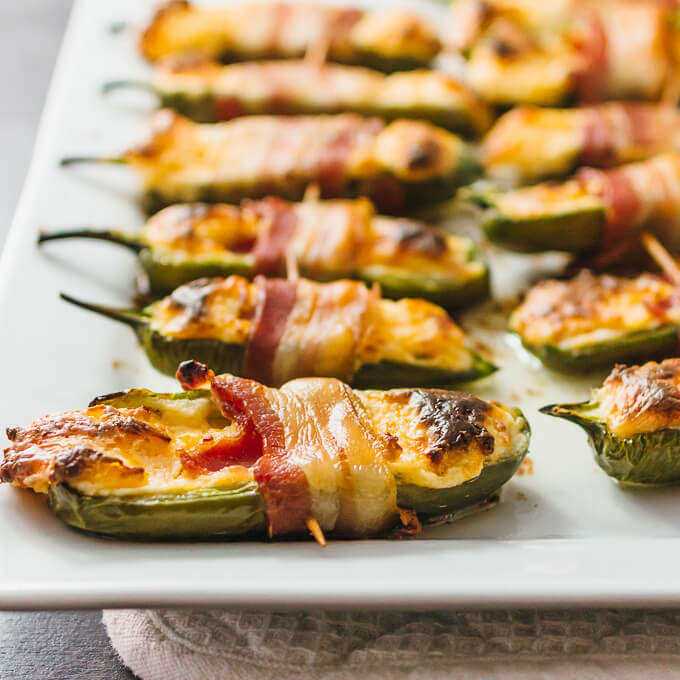 You will only need five ingredients to make this easy and fun party appetizer. I've been making these bacon wrapped jalapeño peppers for the past few years and they are always a winner.
I first became obsessed with jalapeño popper type appetizers during a Caribbean trip: I was staying at a resort where they made amazing fried jalapeño poppers, which were leagues better than anything else they had on the menu. I ended up ordering them literally every single day that I stayed at that resort. After I returned home, I starting making this bacon wrapped version so that I could have an easy way of making them at home without breading and frying.
I love making these bacon wrapped jalapeño peppers when my outdoor pepper garden is thriving. Last year, I had four plants that were waist high and they produced a total of about 30 jalapeño peppers. Recipes such as these stuffed jalapeño peppers and my chunky jalapeño artichoke and spinach dip are great ways to use them up.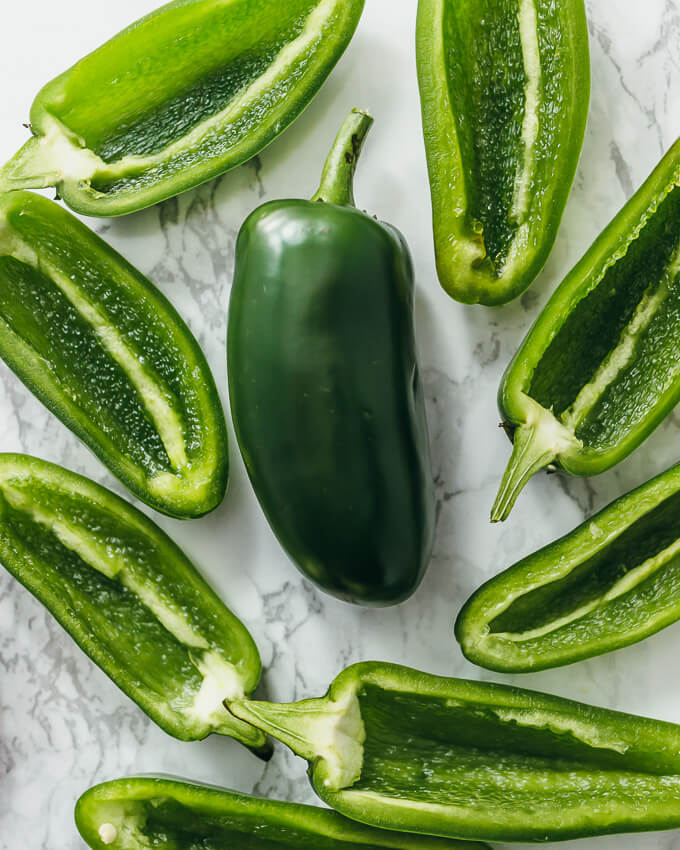 HOW DO YOU MAKE JALAPEÑO PEPPERS LESS SPICY?
You can make jalapeño peppers less spicy by making sure to remove all seeds and membranes, which is where all of their capsaicin (that's what makes chili peppers hot) is located. If your skin is sensitive to capsaicin — mine definitely are because I've had pepper hands before — then you should wear gloves while handling jalapeños.
If you can't tolerate chili peppers at all but you still want to try these out, I recommend using mini sweet bell peppers instead of jalapeños. You might have seen them in the produce section of your grocery store — they usually come in clear packaging with various colors and are about the same size as a jalapeño.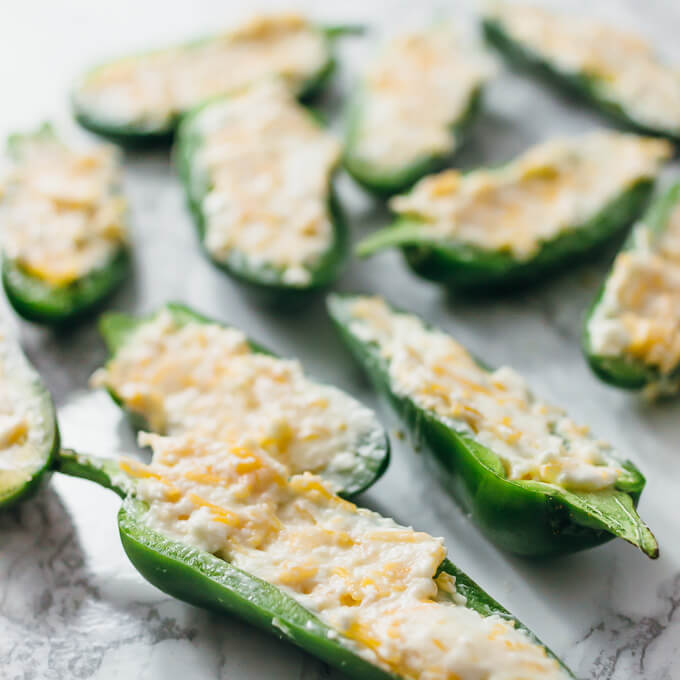 WHAT DO YOU STUFF JALAPEÑOS WITH?
I stuff jalapeños with a simple mixture of cream cheese, cheddar cheese, and garlic powder. If you don't have cheddar cheese but have some other kind of cheese handy, you can use that instead. Other cheeses that work well include pepper jack or Mexican blend cheeses.
When mixing cream cheese with shredded cheddar cheese, it is easiest if your cream cheese has been softened first. I usually microwave the cream cheese by itself until soft. Try 5-10 second microwave bursts until the cream cheese becomes spreadable. Alternately, you can skip the softening step and just use a hand mixer to mix the cream cheese with the cheddar.
When you're stuffing the jalapeños, don't over-stuff or else the cheese stuffing will slide out when baking. I usually stuff just enough to fill the pepper. If you're using toothpicks to secure the bacon, there's no need to wrap the bacon very tightly around each pepper. Otherwise, your baked jalapeños will end up looking like they've had the cheese choked out of them.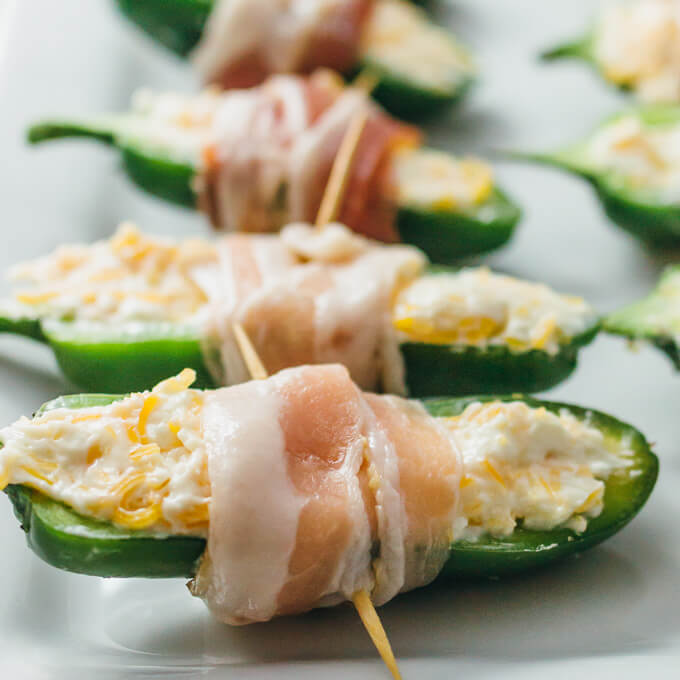 WHAT GOES WELL WITH JALAPEÑO PEPPERS?
I recommend pairing these bacon wrapped jalapeños with summer side dishes such as:
artichokes with balsamic mayo dip (includes tutorial on how to cook artichokes)
hot crab dip with cream cheese
greek salad with avocado dressing
stuffed portobello mushrooms
shrimp avocado salad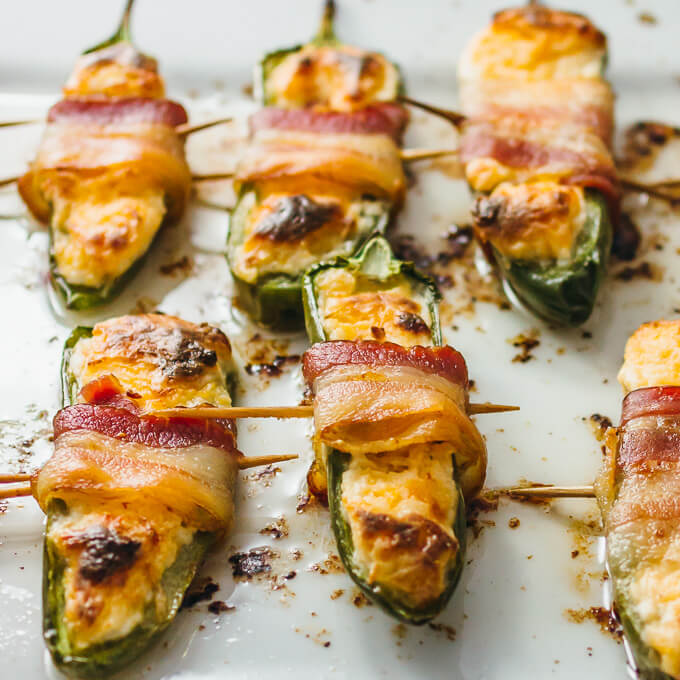 NEVER MISS A RECIPE!
Bacon Wrapped Jalapeño Peppers Stuffed with Cream Cheese
You'll love these bacon wrapped jalapeño peppers stuffed with cream cheese and shredded cheddar. Similar to jalapeño poppers except that these are low-carb and baked in the oven.
Prep Time 20 minutes
Cook Time 30 minutes
Servings 12 servings
Calories 70 kcal
Ingredients
6 jalapeño peppers (about 8 ounces) sliced lengthwise in half with seeds and membranes removed
6 slices bacon cut widthwise in half
4 ounces cream cheese
1/2 cup shredded cheddar cheese
1/2 teaspoon garlic powder
Instructions
Add cream cheese to a microwave-safe mixing bowl. Microwave until slightly softened, about 15 seconds. Add cheddar cheese and garlic powder. Mix until combined.
Stuff each pepper half with the cream cheese mixture. Wrap a halved bacon slice around each pepper. Secure with a toothpick as needed.
Place the stuffed peppers in a single layer onto a baking tray.
Bake at 400 F until the cheese is starting to brown, about 20 minutes. Turn on the broiler and broil for a few minutes to crisp up the bacon. Remove from the oven and let cool for 10 minutes before serving.
Nutrition Notes
This recipe yields 1 g net carbs per serving (1 bacon wrapped jalapeño half).
Nutrition Facts Per Serving
Calories 70
Total Fat 5g 8%
Saturated Fat 3g 16%
Trans Fat 0g
Cholesterol 18mg 6%
Sodium 120mg 5%
Potassium 20mg 1%
Total Carb 1g 0%
Dietary Fiber 0g 1%
Sugars 0.5g
Protein 3g
Vitamin A 4% · Vitamin C 14% · Calcium 4% · Iron 0%