BEER AND HORSERADISH SLOW COOKER BEEF STEW
BEER AND HORSERADISH SLOW COOKER BEEF STEW
This beer and horseradish beef stew is the definition of pure comfort food! Cooking it in the slow cooker makes for the most tender pieces of beef and veggies with a rich, silky sauce!
Imagine coming home to a fantastic soul-warming comfort food dinner recipe… sounds perfect doesn't it? This time of year, comfort foods like this beef stew are crucial to keep on hand. Especially one that cooks in the slow cooker… barely any hands-on effort is required!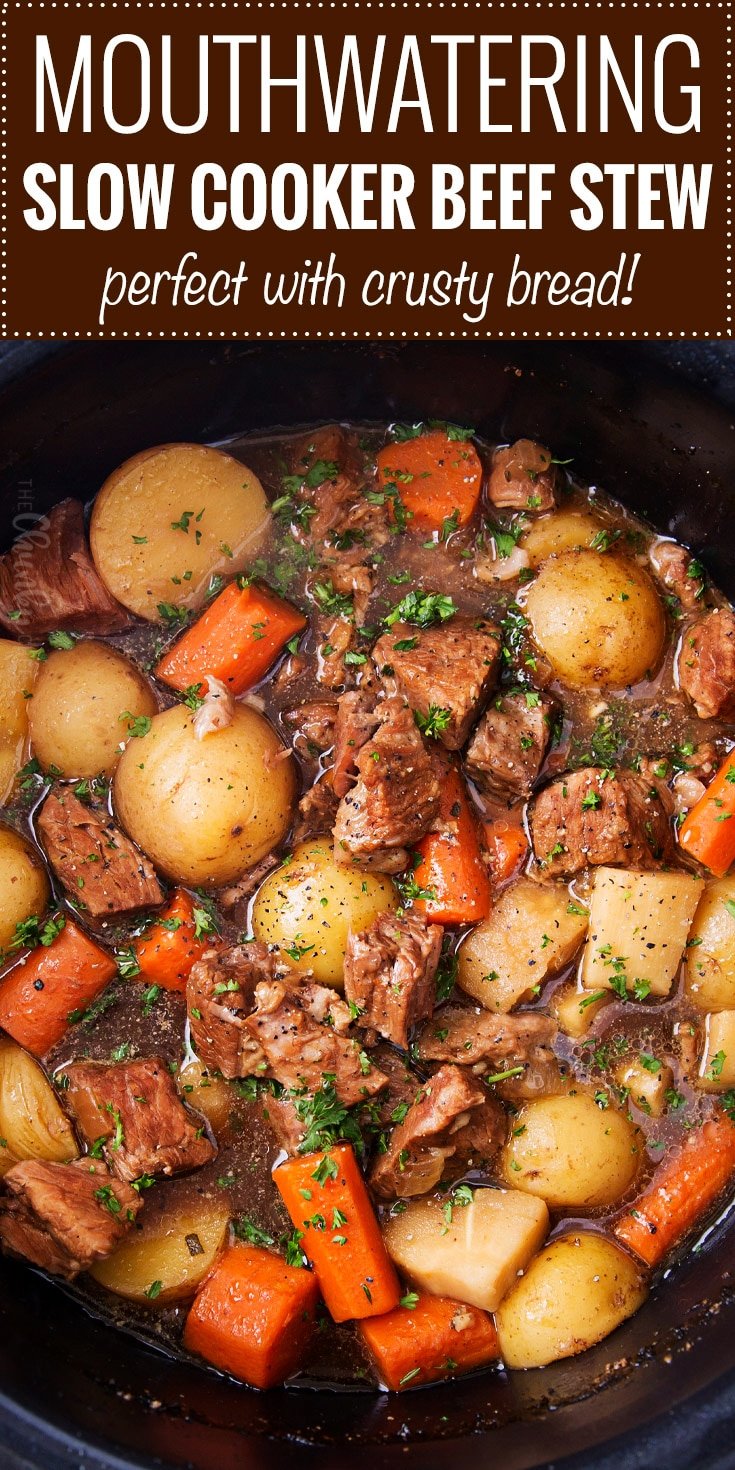 As a food blogger, it's easy to forget what it's like to come home after working a full (long) day and still have the very crushing reality of having to cook dinner. For me, there is no coming home, since I'm always here working, cooking, setting up photoshoots, etc. Even before this blog took off, there wasn't any coming home, since I was a stay at home Mom. BUT, I can tell you, the night's when I've got dinner going in the slow cooker… those are the nights that before my husband even has his whole body through our door, he's going, "man that smells amazing, I'm so hungry!". And I know he's super relieved to not have to run back out for takeout, etc.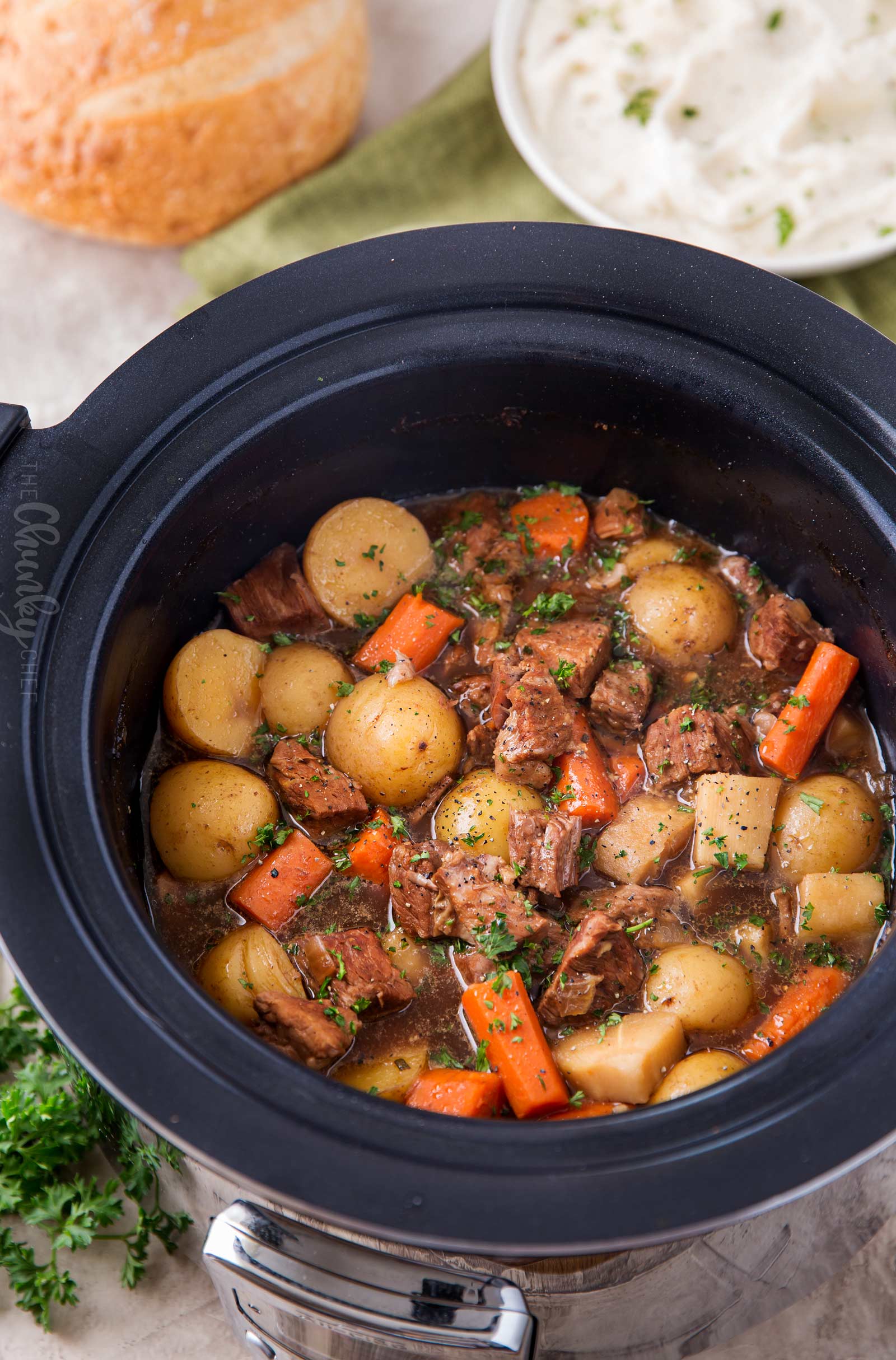 I know some of you are wondering why in the world my husband would be running out for takeout when I literally cook for a living. Well, it's because I literally cook for a living! Some days after cooking all day, or cooking multiple meals to photograph or test… the thought of cooking yet again is just exhausting. So we have leftovers or takeout… or hopefully I was smart and threw something in the slow cooker in the morning!
WHAT GOES IN A BEEF STEW?
Generally beef stew is made with a tough cut of meat like a chuck roast (or shoulder roast), vegetables (like potatoes, carrots, celery, parsnips, mushrooms, etc), beef stock, and plenty of seasoning. I like to add some beer to mine, as I love the depth of flavor, as well as some tomato paste and beef base.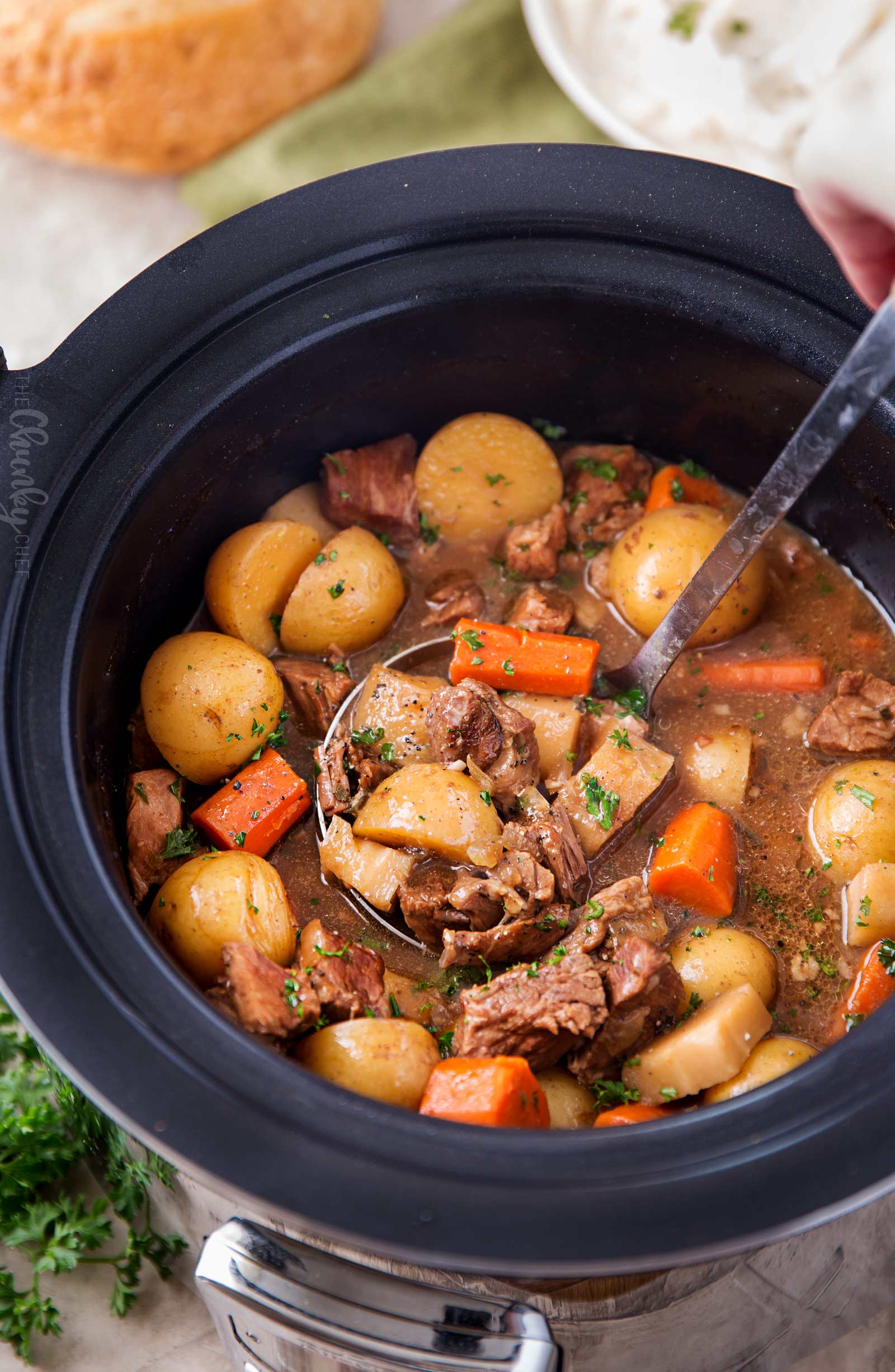 HOW DO YOU THICKEN UP BEEF STEW?
There are three main ways to thicken up a beef stew. The first two involve making a slurry – which is basically adding flour or cornstarch to a cold or room temperature liquid.
Mix 1-2 Tbsp cornstarch into 1-2 Tbsp of beef stock/broth or even water. Use a fork or spoon to mix it around until there are no lumps. Stir into beef stew, and cook on low for 20-30 minutes, stirring occasionally.
Do the same as above, but use flour instead of cornstarch.
Using a fork mix together equal parts (I usually do 1 Tbsp each) softened butter and flour. Mix it together well, so it almost forms a ball. Add it to the beef stew, stir, and cook on low for 20-30 minutes, stirring occasionally. This method is my absolute favorite!
HOW DO YOU MAKE BEEF STEW ON THE STOVE?
No slow cooker, no problem! Be advised though, a stovetop beef stew takes multiple hours to properly come together.
Start by browning the beef pieces in a large dutch oven. Remove and cook onions and garlic in beef drippings. Add beer and beef broth to deglaze the pan (scraping the bottom of the pot to release those browned bits). Return beef to the pot and add remaining ingredients. Stir well, cover and simmer on LOW for 2-2 1/2 hours.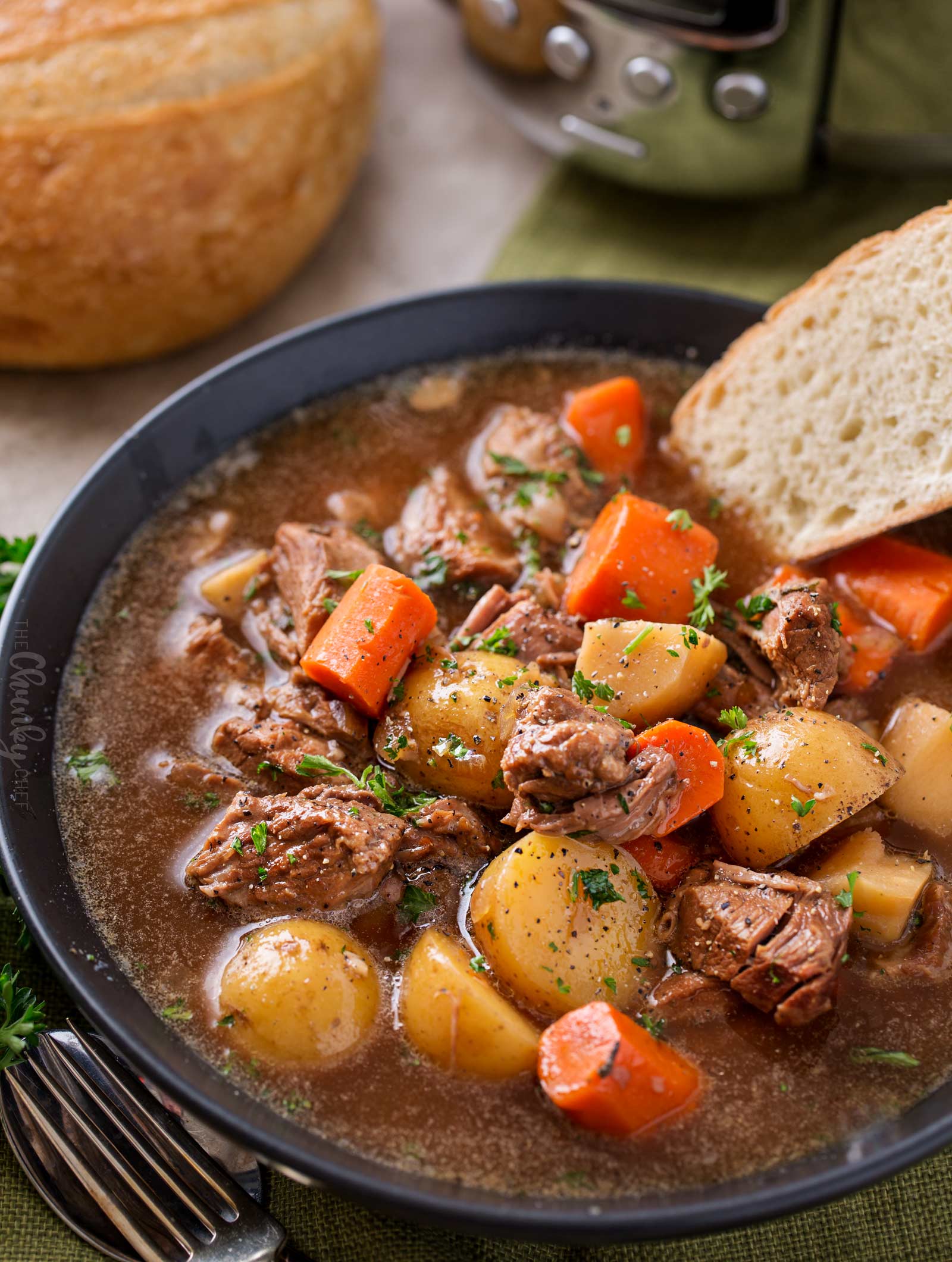 TIPS AND TRICKS FOR MAKING SLOW COOKER BEEF STEW:
Brown your beef if possible! I know it's an extra step, but I love the extra flavor it adds!
Use sturdy potatoes! I love to use baby Yukon gold potatoes. They're so buttery, yet they are sturdy and hold up well to a full day of cooking in the slow cooker. Plus, there's no need to peel them, just halve or quarter them after washing.
Use tomato paste in a tube. Since you only need a little bit for this recipe, I find using tubed tomato paste easier than figuring out what to do with the remaining 5 oz of the can.
Add your horseradish at different times for different flavor profiles! For a more mild, almost sweet flavor, add the horseradish in with the rest of the slow cooker ingredients and let it cook all day. For a more intense kick, add the horseradish at the end, while you're thickening up the stew.
Don't forget to dip some crusty bread into the stew!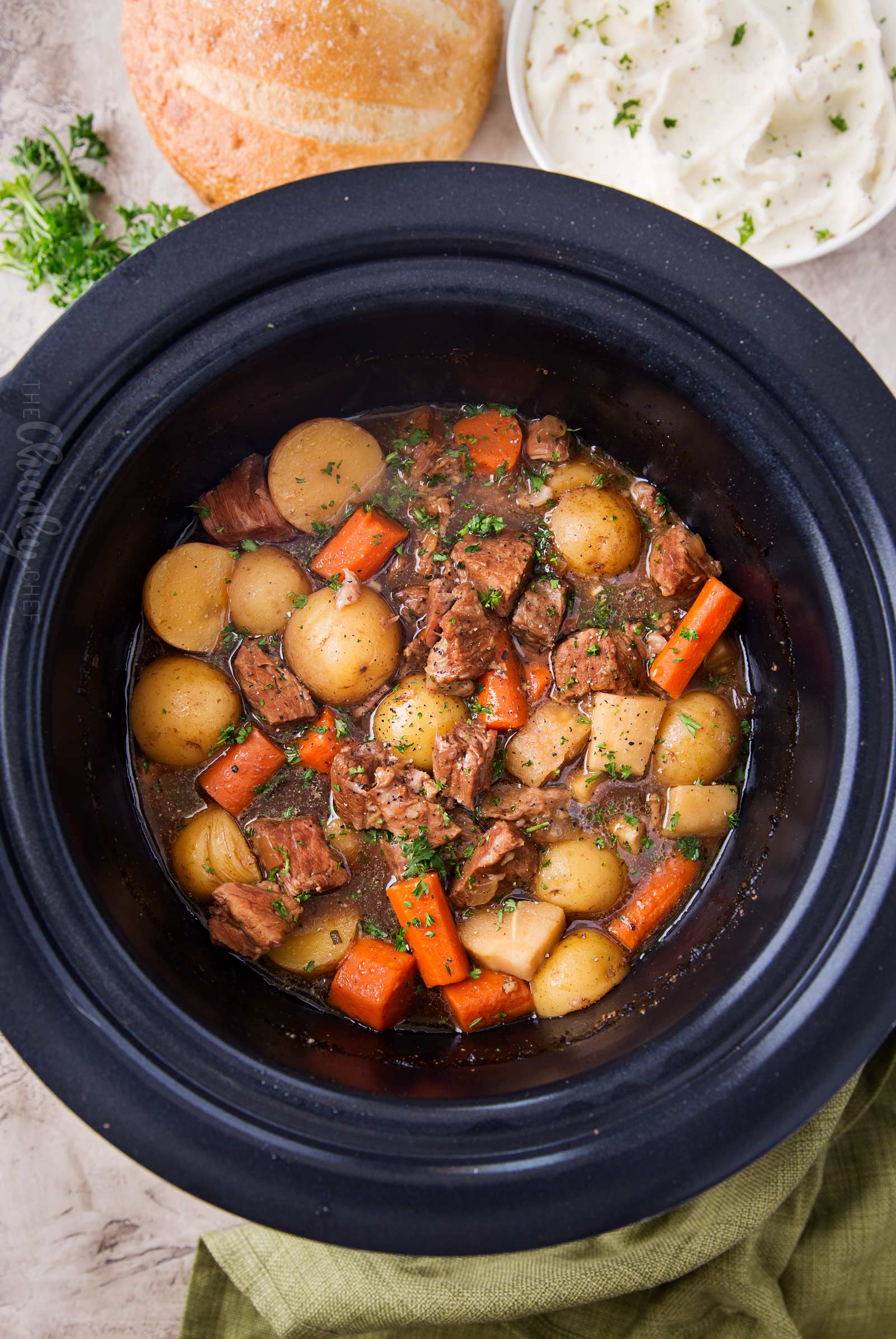 HELPFUL TOOLS:
4 quart slow cooker – this is the one pictured in my photos, and my most used slow cooker. I love that the insert is stovetop safe, so I can brown the beef right in it! It's also pricey, so below I have another option.
Programmable slow cooker – this one is super economical and I love that the lid latches.
Better Than Bouillon – these jars are like magic, and lend SO much extra flavor! I find them cheaper at my grocery store, but wanted to link them here so you know what they look like or in case you can't find them.
BEER AND HORSERADISH SLOW COOKER BEEF STEW
8 SERVINGS
prep time 20 MINS
cook time 8 HRS 10 MINS
total time 8 HRS 30 MINS
This beer and horseradish beef stew is the definition of pure comfort food! Cooking it in the slow cooker makes for the most tender pieces of beef and veggies with a rich, silky sauce!
calories: 434 KCAL
INGREDIENTS
2 - 2 1/2 lbs boneless chuck roast, trimmed and cut into 1-2 inch pieces
1 1/2 tsp kosher salt
1 tsp black pepper
2 Tbsp vegetable oil
12 oz dark stout beer (I usually use Guinness)
3 cups beef broth
3 carrots, peeled and cut into 2 inch pieces
2 parsnips, peeled and cut into 1 inch pieces
1 1/4 lb baby Yukon gold potatoes, halved or quartered
1 yellow onion, diced
5 cloves garlic, minced
2 tsp fresh sage, minced
2 Tbsp beef base (better than bouillon)
2 Tbsp tomato paste
1-2 Tbsp prepared horseradish
1 Tbsp softened butter
1 Tbsp all purpose flour
INSTRUCTIONS
Season beef pieces with 1 1/2 tsp kosher salt and 1 tsp black pepper. Heat vegetable oil in a large skillet over MED-HIGH heat until shimmering, then add beef in a single layer (you may have to do this in batches to avoid overcrowding the pan). Brown on all sides, about 1-2 minutes per side, then turn off heat. Remove beef to slow cooker.
Pour beer and broth into hot pan and stir to loosen any browned bits. Let sit for a few minutes while you add other ingredients.
Add carrots, parsnips, potatoes, onion, garlic, sage, beef base and tomato paste to slow cooker with the browned beef. Pour beer/broth mixture from the skillet into the slow cooker. Cover and cook on LOW for 7 - 7 1/2 hours.
Mix together butter and flour to form a pasty ball. Remove lid, add horseradish and butter/flour mixture, stirring well. Cover and continue cooking another 20-30 minutes, stirring occasionally. Taste, and add additional salt and pepper as needed.
Sprinkle with fresh parsley and serve!
RECIPE NOTES
If your stew gets a lot of fat particles at the top after cooking, either skim it with a spoon or remove beef and veggies to a bowl, then pour liquid through a strainer into the bowl with the beef and veggies.
more recipes @ https://www.thechunkychef.com