Blueberry Cheesecake Crumb Cake
Blueberry Cheesecake Crumb Cake
Blueberry Cheesecake Crumb Cake is delicious combo of two mouthwatering desserts: crumb cakeand blueberry cheesecake. With this simple and easy dessert recipe you'll get two cakes packed in one amazing treat. Creamy and smooth cheesecake is bursting with blueberries! The crust and topping are made from the same mixture, which means much less work and dirty dishes, too.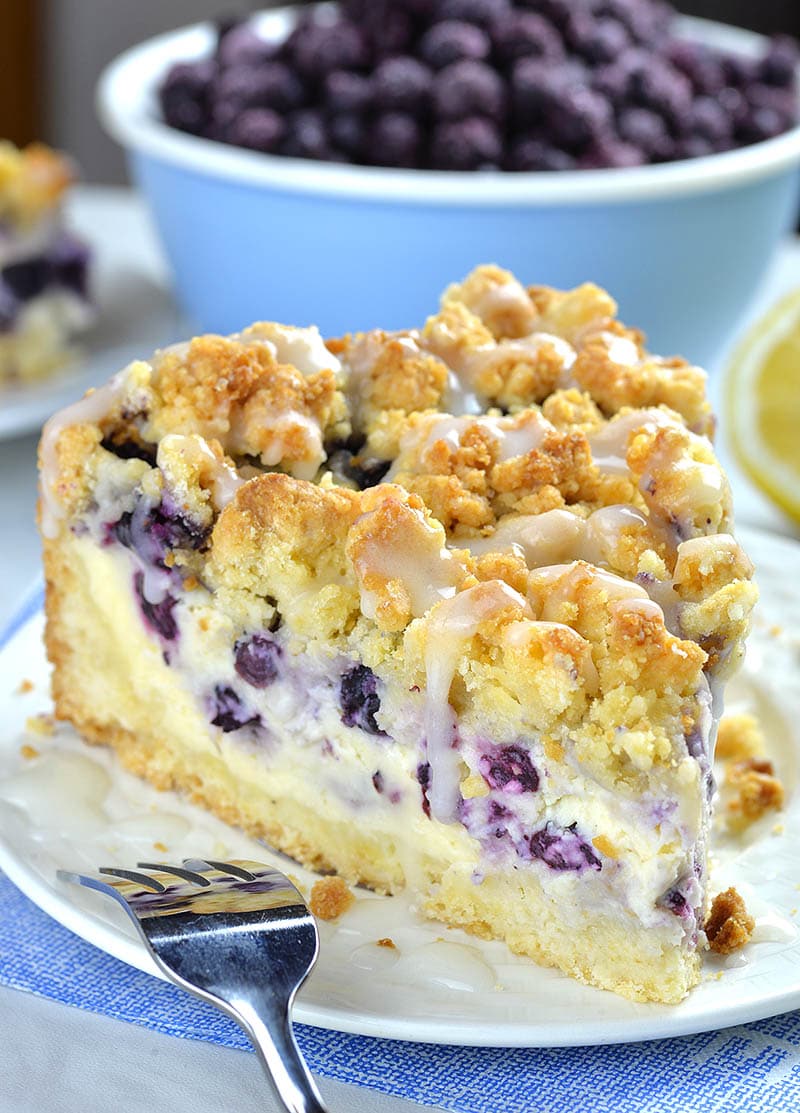 Blueberry Cheesecake Crumb Cake
However, this is not the first time for me to add cheesecake filling in a crumb cake. It's such a good combo!!! Creamy filling trapped inside moist cake with crunchy streusel crumb on top is irresistible!
Maybe you have seen (or even tried) my Strawberry Cheesecake Coffee Cake, Raspberry Cream Cheese Coffee Cake or Easy Cinnamon Coffee Cake recipes.
Blueberry Cheesecake
But, this time I overloaded my crumb cake with filling and made a really generous layer of cheesecake filling. Actually, there's more filling than crust and topping in this cake. However, this Blueberry Cheesecake Crumb Cake turned was amazing. So delicious and so flavorful!!!
Also, I added a lot of blueberries. Blueberries goes really good with cheesecake. Blueberry Cheesecake is my favorite flavor combo. I've already used it in my Sopapilla Blueberry Cheesecake Bars and White Chocolate Blueberry Lasagna and my French Toast Muffins, for example.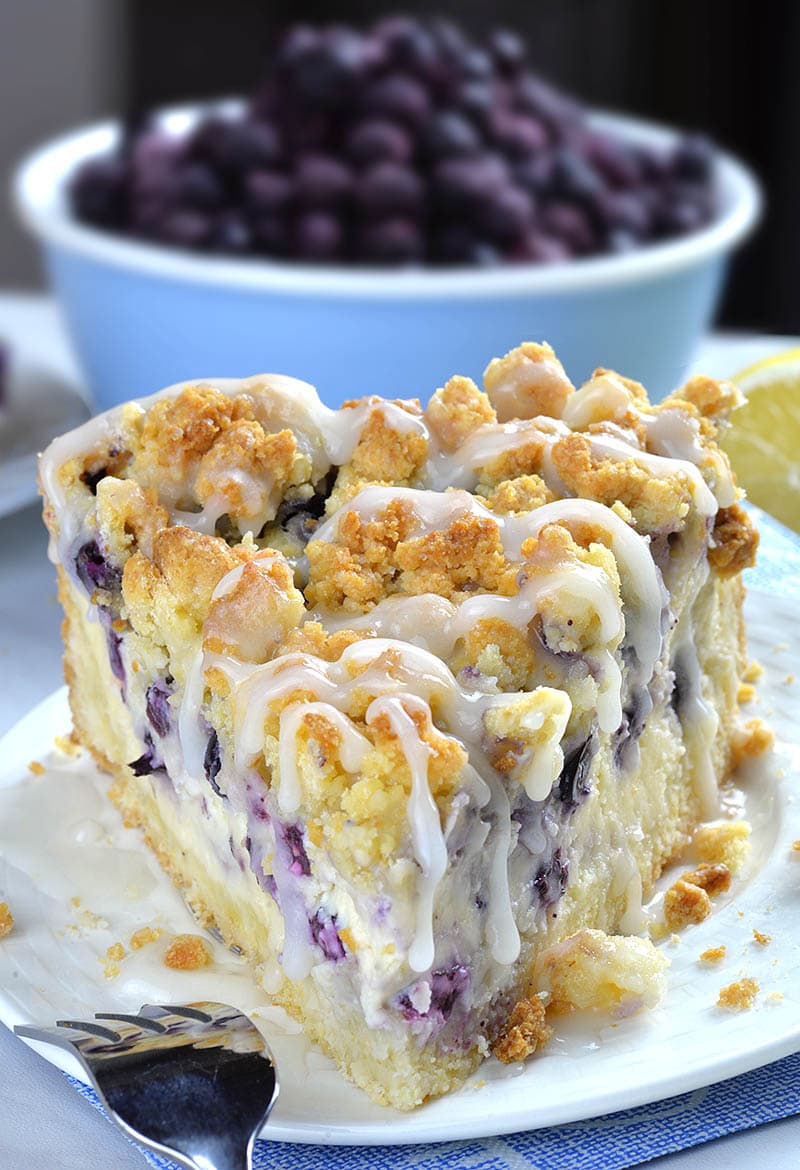 Crumb Cake
As for the crumb cake, that's one of my favorite cakes. Crumb cakes or coffee cakes are totally acceptable for breakfast. At least that's my excuse to eat dessert as soon as I get out of bed. One of my most popular recipes was my Cinnamon Apple Crumb Cake.
I'm a huge fun of crumbs and streusel topping. If you like it, too, especially if you are fun of blueberries, then you must go and check my Blueberry Muffins with Streusel Crumbs and Lemon Blueberry Muffins.
If you like this Blueberry Cheesecake Crumb Cake, try also:
Raspberry Cream Cheese Coffee Cake – all flavors you love, you'll get here in every bite: moist and buttery cake, creamy cheesecake filling, juicy raspberries and crunchy streusel topping.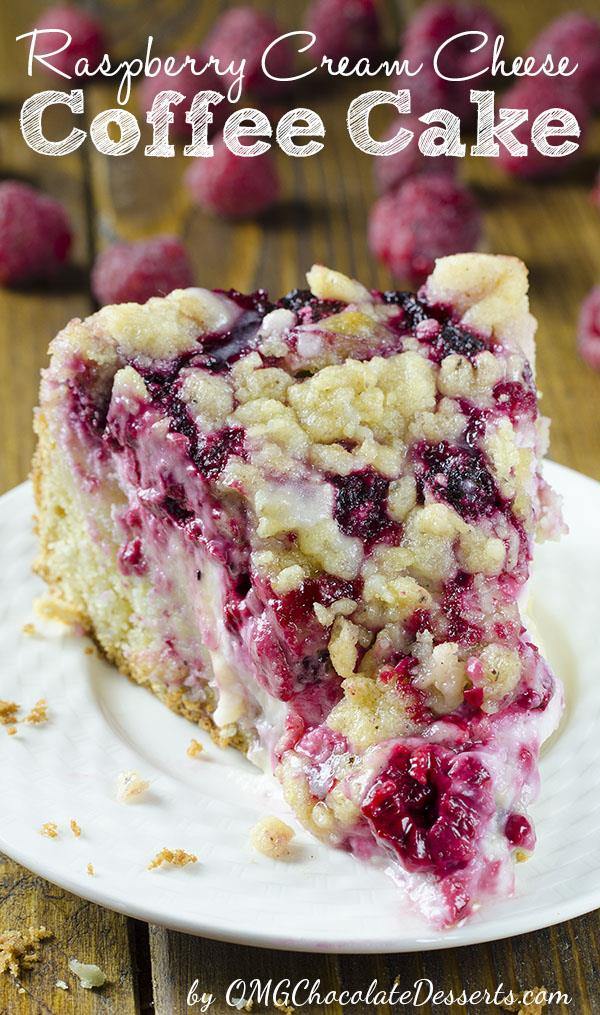 Are you ready for fall baking? Cinnamon Apple Crumb Cake is the perfect dessert for crisp weather coming up.
This blueberry muffins recipe will soon become your favorite breakfast recipe keeper!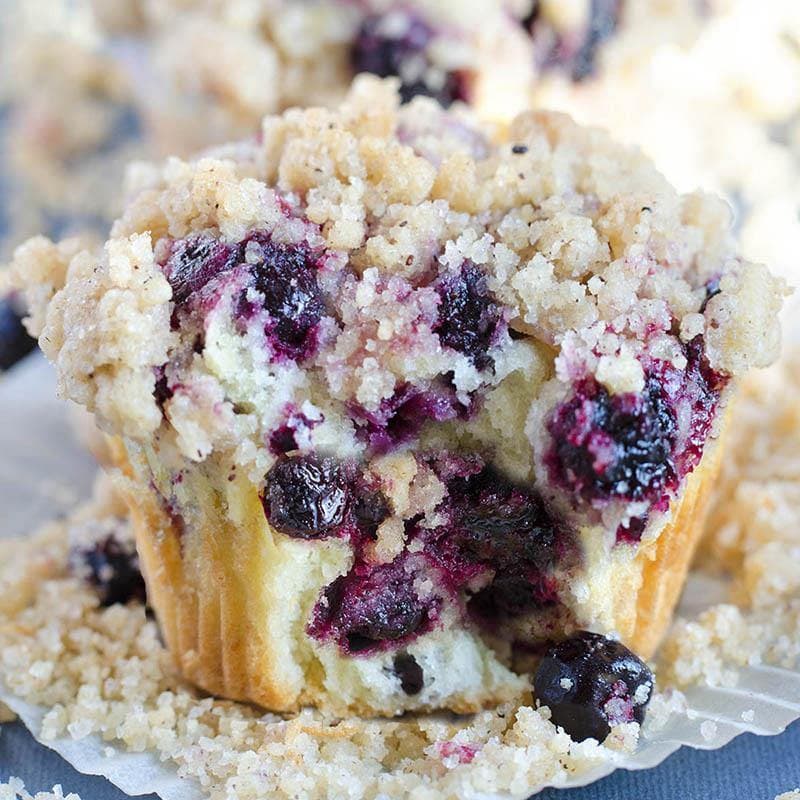 Pin Blueberry Cheesecake Crumb Cake for later:

Blueberry Cheesecake Crumb Cake
Prep Time: 15
Cook Time: 75
Yield: 8
Category: desserts
Cuisine: American

Description
Blueberry Cheesecake Crumb Cake is delicious combo of two mouthwatering desserts: crumb cake and blueberry cheesecake. With this simple and easy dessert recipe you'll get two cakes packed in one amazing treat.
Ingredients
Crumb Cake:
3 and 1/3 cups flour
2 teaspoons baking powder
¼ teaspoon salt
½ cup butter-cold and cut in cubes
Grated zest from 1 lemon(optional)
1/3 cup light brown sugar
1/3 cup sugar
2 eggs
1 teaspoon vanilla
Blueberry Cheesecake Filling:
8 oz. mascarpone
8 oz. cream cheese-softened
½ cup + 2 Tablespoons caster sugar
2 Tablespoons corn starch
2 eggs
1 teaspoon vanilla
1 and 2/3 cups of blueberries
Glaze:
½ cup powdered sugar
2-3 teaspoons milk
Instructions
Preheat the oven to 350 F. Line the bottom of 9 inches springform pan with parchment paper, spray bottom and sides of the pan with nonstick cooking spray and set aside.
In a large bowl stir together flour, baking powder, salt, brown sugar, sugar and lemon zest.
Add butter in dry ingredients mixture. Now, you can work it with hands, or press with a fork, or you can use the mixer. Work it until it's grainy.
Add eggs and vanilla and mix to combine. The mixture should be crumbly. If it's to sandy squeeze it with your fingers to make pea size crumbs.
Press about 2/3 of the mixture in the bottom and side (about 1 ½ inch height) of the pan. Place the pan and remaining crumbs in the fridge.
To make the filling mix together cream cheese, mascarpone, vanilla, sugar and corn starch just to combine. Add eggs and mix just to combine, do not overdo it.
Pour half of the cheesecake mixture in chilled crust, scattered about 2/3 cup of blueberries over the filling. Spread remaining cheesecake mixture. Top with blueberries and remaining crumbs.
Bake at 350 F until golden brown and toothpick inserted in the center comes out clean, about 65-75 minutes. If it starts browning too much tent the top with aluminum foil.
To make the glaze stir together powdered sugar and milk or cream. If it's too thin add powdered sugar, if it's too thick add more milk.
Notes
CASTER SUGAR is a finer granulated sugar. You can make a homemade caster sugar. Just process regular granulated sugar in a food processor, blender or coffee grinder until the sugar granules are smaller. But keep an eye on it—if you process it too long you'll end up with powdered sugar!