Cinnamon Roll in a Mug
Cinnamon Roll in a Mug
This single serving, oil-free Cinnamon Roll in a Mug is like magic. It's so easy & perfect for when those sweet cravings hit & you NEED dessert, like now!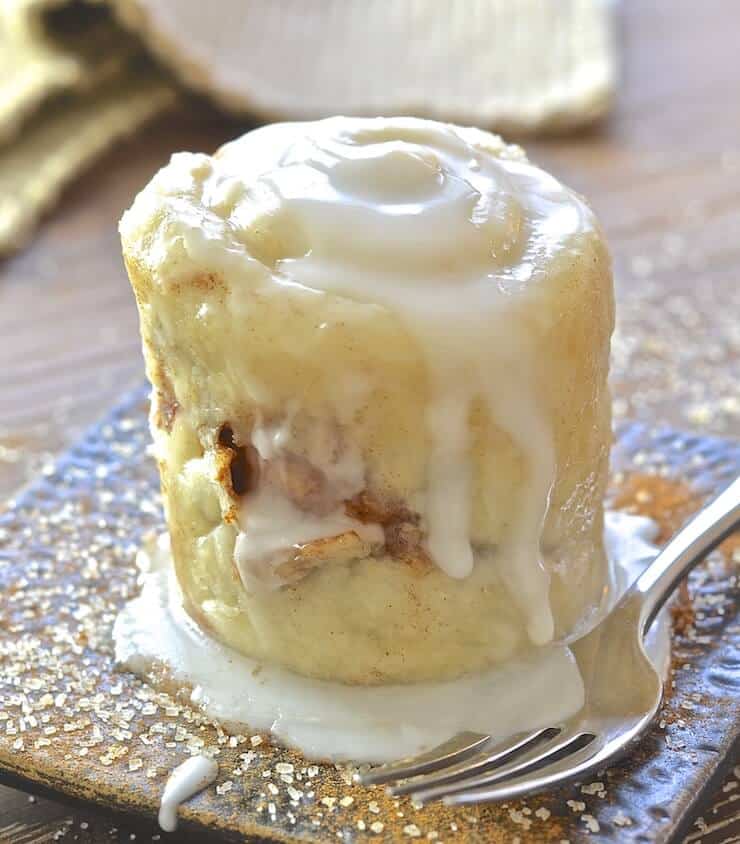 ZERO TO DESSERT IN 60 SECONDS WITH THIS MICROWAVE CINNAMON ROLL!
Back to this very delayed Cinnamon Roll in a Mug. It is so easy to make. It literally takes a minute or two to form and about fifty seconds to cook.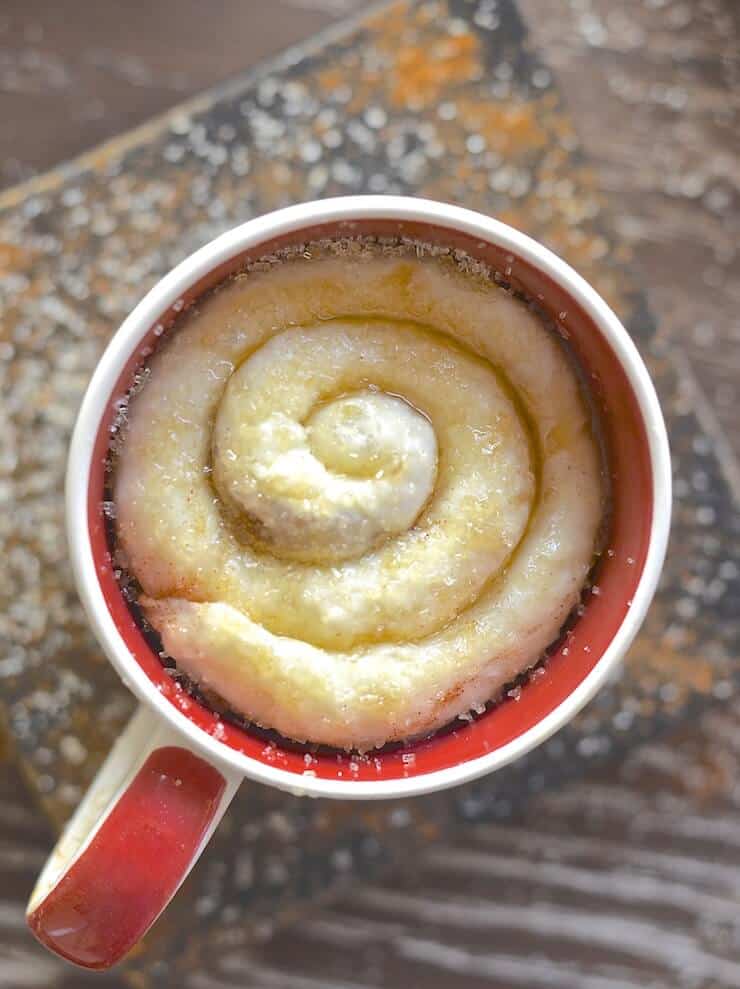 Once it's cooked, turn it out onto a plate and admire it's cinnamon roll beauty for a second before anointing it with a generous dribble of frosting. Then tuck in immediately. Don't keep it hanging around. It is best eaten right away because once it cools it gets a bit tough.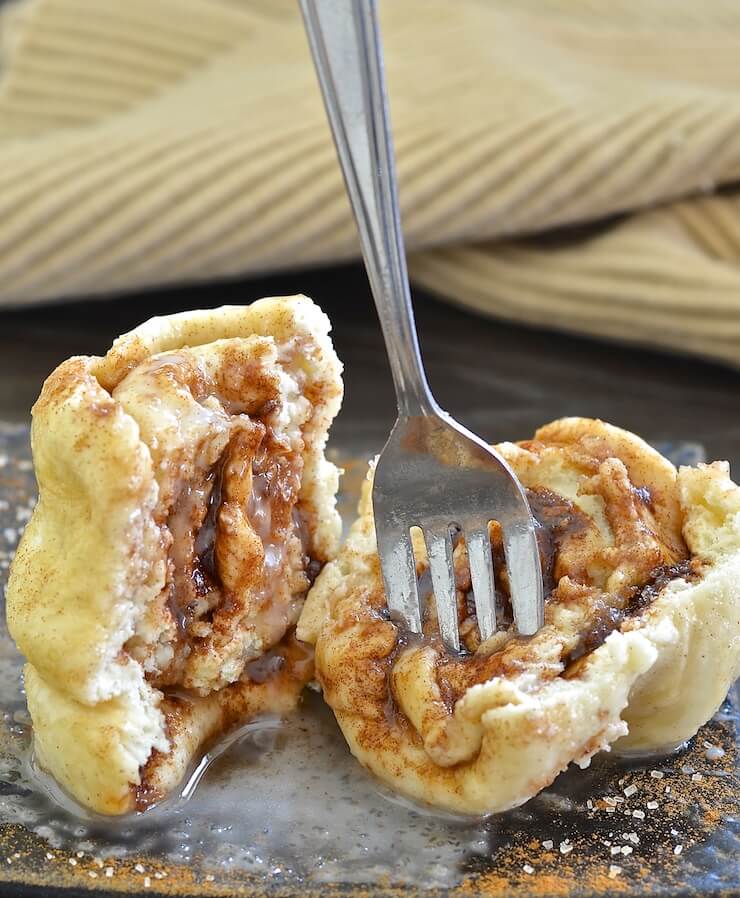 AN INDULGENT TREAT IN ONLY ONE MINUTE!
My Cinnamon Roll in a Mug is warm, sticky, doughy and cinnamony. The perfect indulgent treat for those times when you absolutely need dessert right now. It is completely oil-free and although not what I would call healthy, it is certainly better for you than most commercially made cinnamon rolls.
The roll itself is not overly sweet, although you could add sugar to the actual dough if you wanted to make it a little sweeter. With the addition of the frosting though, the sweetness is perfect.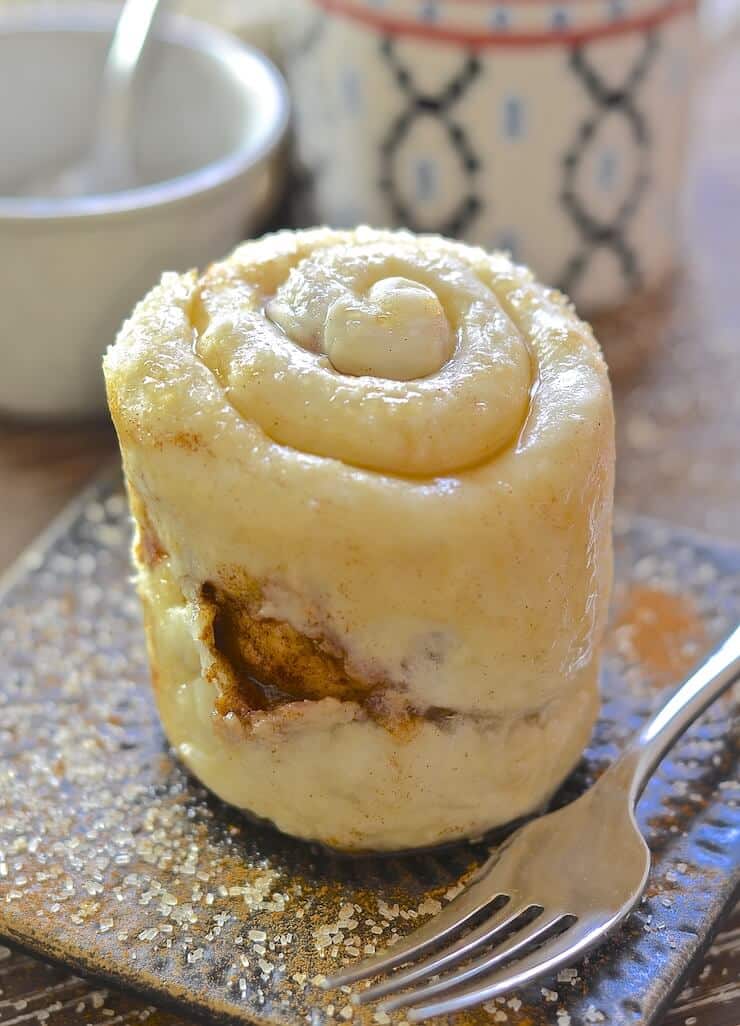 HOW TO MAKE THIS ONE MINUTE CINNAMON ROLL IN A MUG
It's so easy to make. All you have to do is:
Make the frosting by mixing powdered sugar with a drop of plant-based milk or water
Mix the 4 dough ingredients together in a bowl then roll out into a long strip
Sprinkle over the cinnamon and sugar then fold the edges inwards.
Roll up and plop into a mug.
Microwave, turn out and annoint with the sticky white frosting
That's it! It really is that simple, but before you start please read the next paragraph.
And if you LOVE this recipe be sure to check out my Strawberry Sweet Roll in a Mug which is a spin off and even more delish! Here it is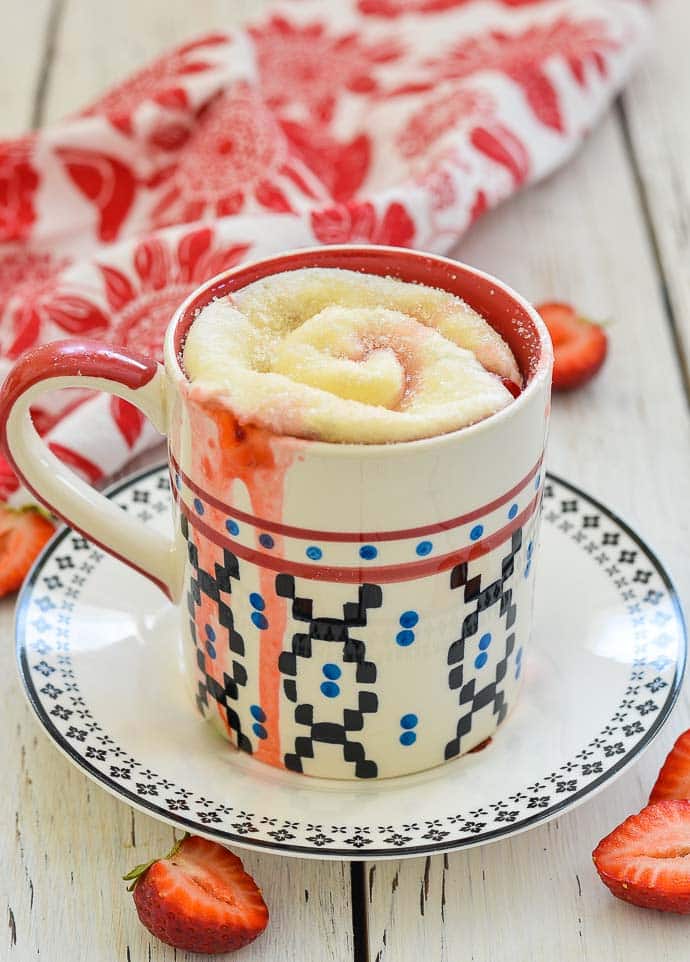 PLEASE READ BEFORE YOU MAKE THIS CINNAMON ROLL IN A MUG RECIPE
I am adding this section after publication because of some of the feedback I have received. The vast majority of people have been very pleased with the results of this recipe, but some people have not, and in almost all cases it is because they have had very unreal expectations of the outcome, or they have nuked the hell out of it in the microwave. Quite a few people have also stuck things in the middle of it before cooking, like a Kit Kat Chunky then complained it burned. I cannot be held responsible for this.
Regarding the unreal expectations:
If you are expecting a Cinnabon type baked, yeasty, fatty, caramelized, super sweet cinnamon roll you will be disappointed. This recipe is not like that. For a start it is oil and yeast free. Secondly, it is a very simplified, quick and easy version. It is also microwaved. It will stay pale and it will not caramelize. This is not possible in the microwave. As long as you realize this and aren't expecting a miracle, then we are good. For a microwaved, simple, quick version it is great and it needs to be enjoyed as such.
Regarding the overcooking issues:
Please realize that if you cook this cinnamon roll for too long, it will become tough, as anything does in the microwave if you overcook it. I am only able to tell you how long it takes in mymicrowave. They are all very different and you need to adjust the cooking time to suit as per my directions.
I can not be held responsible for you cooking it for so long it ends up like a hockey puck.
As I explain in the directions it is better to slightly undercook then blast it in 5 second increments to finish it off. Microwaves are very powerful things and this is a very small item to be cooking. Even 10 seconds too much makes a heck of a difference.
And lastly
Do not forget the baking powder and DO NOT use baking soda (bicarbonate of soda in the UK) instead. This seems to be another recurring issue. If you do not use baking powder it will not work.
This cinnamon roll must be eaten immediately. If you let it cool first or try to reheat it again it will become tough.
All of my recipes are tested rigorously before publishing and if the directions are followed exactly, and cooking time is adjusted to suit your microwave, you will get a good result.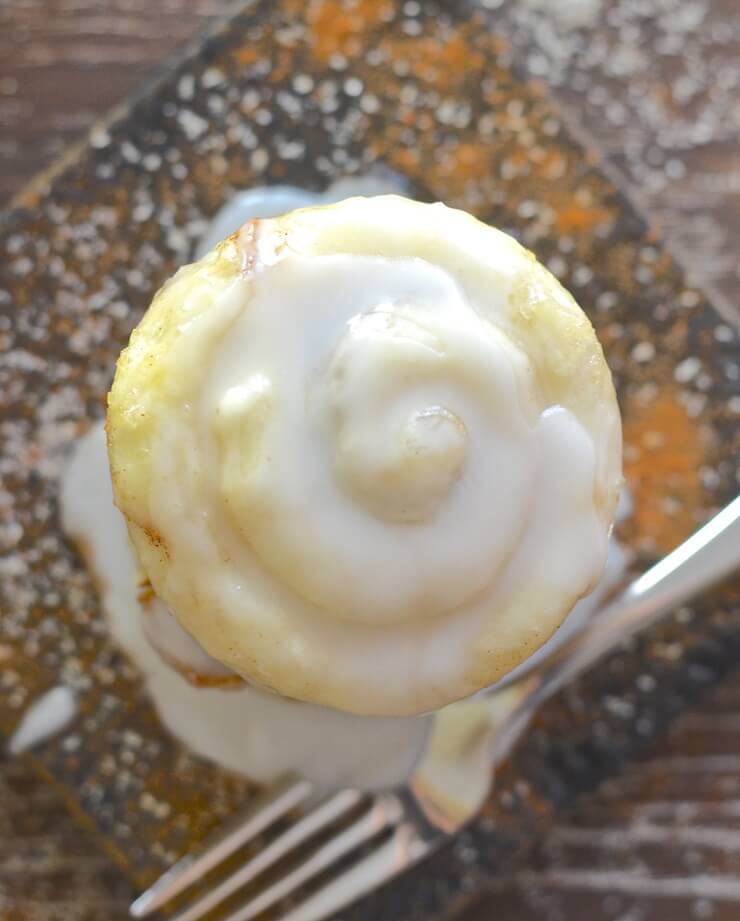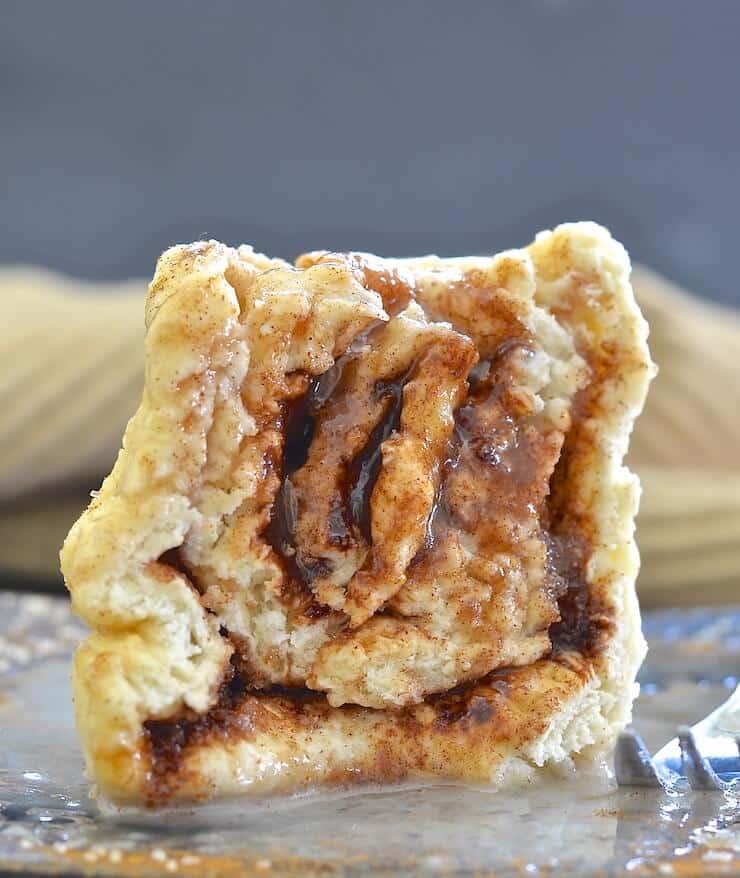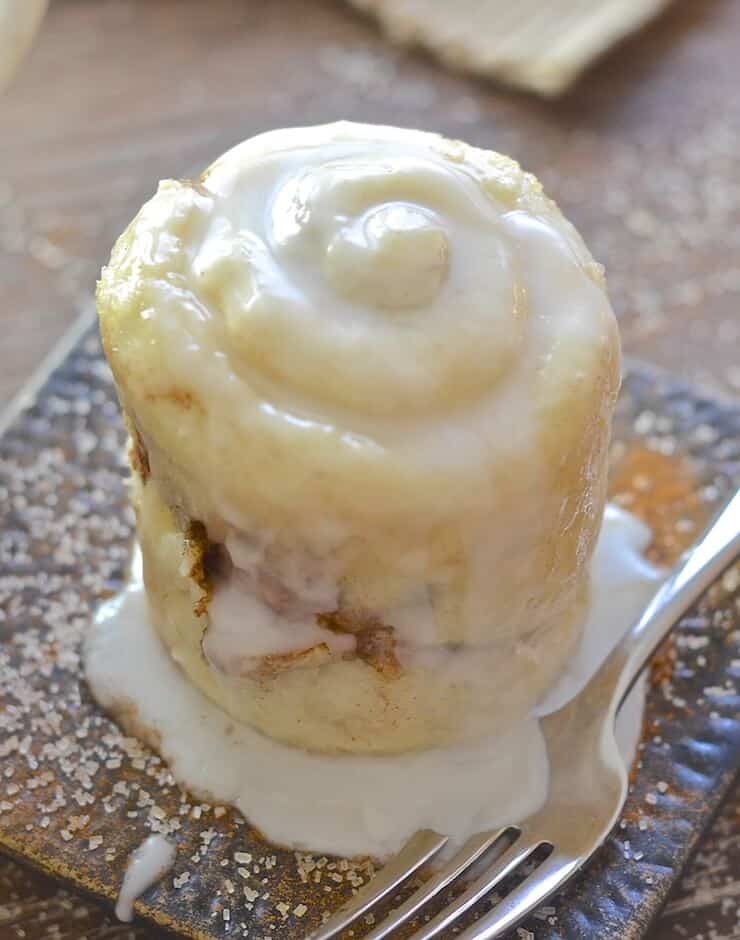 One Minute Cinnamon Roll in a Mug
If you have a mug, a microwave & a spoon you can make this single serving One minute Cinnamon Roll in a Mug. It's so easy & perfect for when those sweet cravings hit & you NEED dessert, like now!
Course Dessert, Snack
Recipe Type oil-free, vegan
Prep Time 5 minutes
Cook Time 1 minute
Total Time 5 minutes
Servings 1 serving
Calories 413 kcal
Author Mel | A Virtual Vegan
Ingredients
For the cinnamon roll
9 level tablespoons all purpose flour
¾ teaspoon baking powder
a pinch of salt
Around 3-4½ tablespoons water
A tiny dab of oil for greasing the mug coconut or mild olive oil/vegetable oil
¾ teaspoon cinnamon
1½ tablespoons coconut sugar you can sub any fine sugar - don't use one with large chunky grains unless you don't mind the grainy texture when it's cooked
½ teaspoon water
For the frosting
3 tablespoons natural powdered sugar
A drop of plant-based milk or water around ¾ teaspoon
Get IngredientsPowered by Chicory
Instructions
Grease a normal sized drinking mug (just a standard medium sized one) with a tiny dab of oil. Be sure to reach into the bottom and the edges well.
First make the frosting. In a small bowl mix the powdered sugar with either plant-based milk or water. Add the liquid a tiny bit at a time. It doesn't take much at all and the most you will need is ¾ teaspoon of water, perhaps a tiny drop more if you are using milk. Stir well until smooth then set aside.
Add the flour, baking powder and salt to another small bowl and stir to combine.
Gradually add the water (from the 3-4½ tablespoons, stirring until it starts to form a dough then use your hand to bring it together, kneading a few times until its a smooth, flexible ball of dough. If you do accidentally add a drop too much water and it's a bit sticky, add a little tiny bit more flour. If it's very dry and won't come together, add a drop more water. Only handle it as much as you need to.
Dust your work surface with a little flour, then roll your dough out into a long strip about 4 inches wide and a couple of millimetres thick
Sprinkle the coconut sugar and cinnamon evenly over the dough then fold the edges inwards to seal it in and stop it all falling out when you lift it into the mug.(see my video above).
You will be left with a long narrow strip which you can roll up.
Roll it up and gently lift it and place it in the greased mug.
Pour over ½ teaspoon water then place in the microwave.
Microwave uncovered on full power for around 45 - 50 seconds. My microwave is 1200 watts. You may need to adjust the time a bit up or down. All microwaves are different so be careful not to overcook it. If you overcook it it will become tough so be sure to check how powerful your microwave is first and adjust accordingly. The very maximum time it will need is about 1 min 10 seconds and that is only if you have a really low powered microwave. Remember that it will continue to cook a little bit after you remove so a tiny bit under done is better than overdone as then it will go tough. If it needs longer cook in 5 second increments to avoid over cooking it.
It should have swollen up nicely when you check it and if you insert a toothpick or skewer into the dough it should come out clean. It is normal for the top and sides to be a little soft & damp & look a bit doughy when you first take it out because it has basically steamed in the mug.
Turn out onto a plate and spoon over the frosting.
Eat immediately.
Nutrition Facts
One Minute Cinnamon Roll in a Mug
Amount Per Serving (1 serving)
Calories

413
Calories from Fat 9
Total Carbohydrates

94g
31%
* Percent Daily Values are based on a 2000 calorie diet.