EASY LASAGNA RECIPE
EASY LASAGNA RECIPE
Our Family's Favorite Lasagna Recipe – Not Only Because It's Delicious But Because It's So EASY! You Don't Even Have To Precook The Lasagna Noodles! With Beef, Pork, Three Cheeses, And Tons Of Seasonings, You Know This Recipe Is Going To Be A Hit!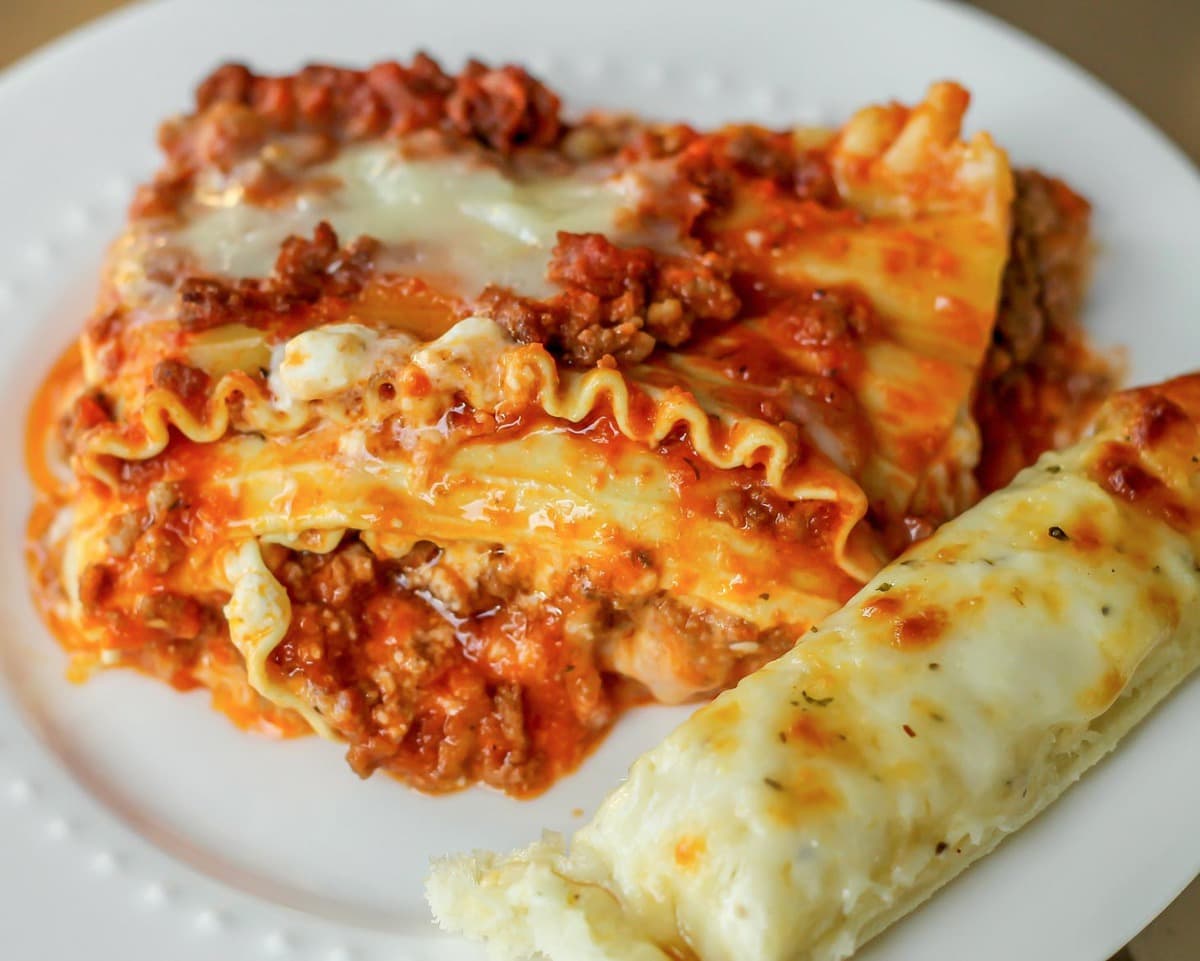 Family Favorite Lasagna Recipe
I'm sharing our family's favorite easy lasagna recipe today! My mom makes Lasagna for the family all the time. It's one of those meals that the entire family loves. It can usually feed all of us too, which is a bonus since the family is pretty large. Not sure how it will be in a few years when there are even more kids, but I'm sure we'll have to start doubling today's easy lasagna recipe soon.
Over the years my mom has tried a TON of Lasagna recipes, but recently she has been using the same one because all of us kids loved it so much. It has become our favorite Lasagna, and my mom doesn't mind making it all the time, because it's such an easy Lasagna recipe. The recipe comes from the awesome ladies at Favorite Family Recipes. My mom modified it a bit to our family's liking and we will probably continue to make it again and again because it's so easy and so good.
Lasagna Ingredients:
This easy lasagna recipe includes all the traditional ingredients including
ground meat (beef and pork)
cheese (parmesan, mozzarella, and cottage cheese)
seasonings (minced garlic, basil, salt, and pepper)
tomato sauce
lasagna noodles
One of the reasons this recipe is so simple is because it calls for no boil lasagna noodles! So you just have to cook up the meats and seasonings with the tomato sauce, combine the three cheeses, and then layer everything with the uncooked noodles in your 9×13 pan! The noodles cook while you're baking the lasagna in the oven. It's so much faster!
How to Make Lasagna: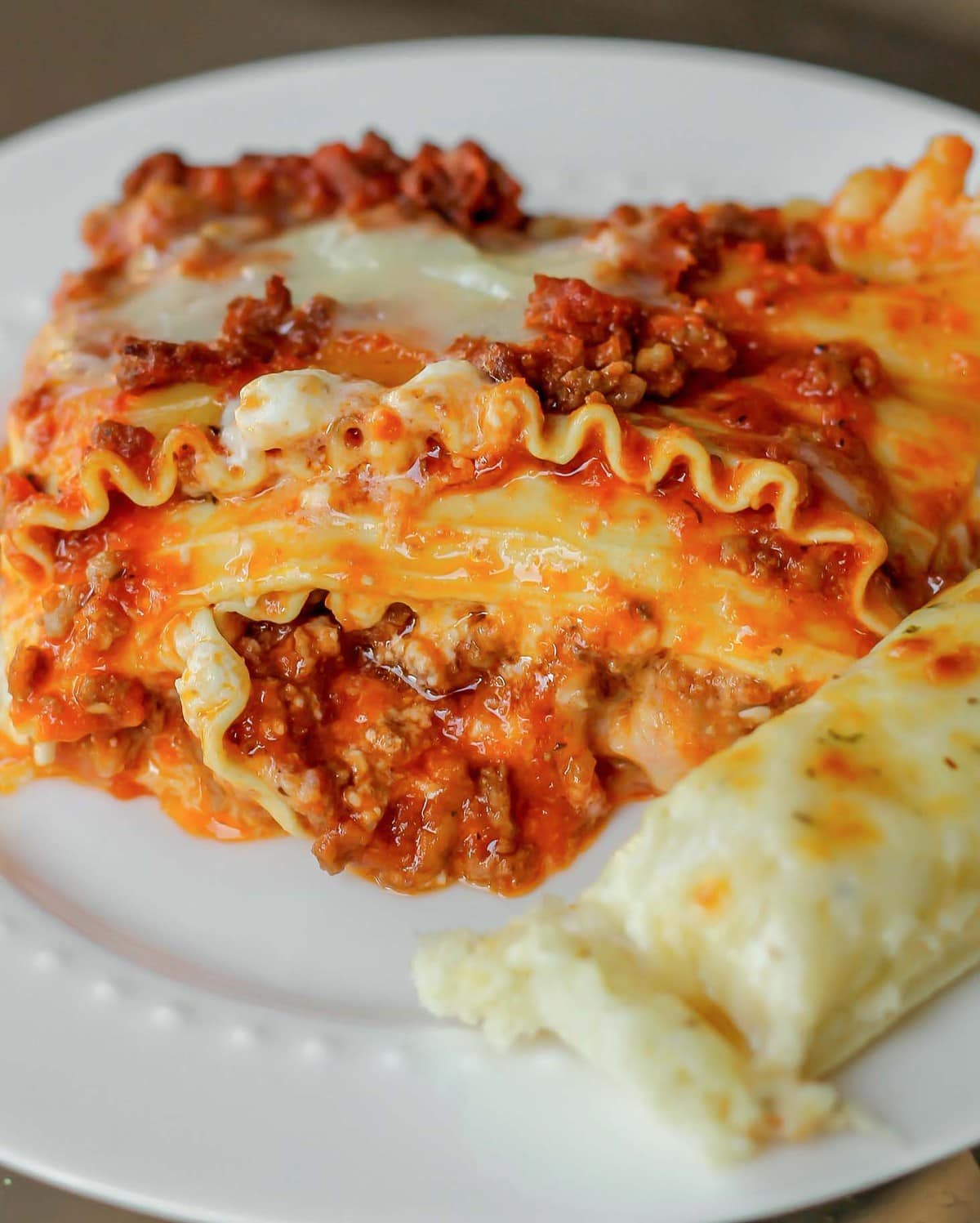 Seriously – you can never go wrong with lasagna for dinner. It's just too good, and I will never turn it down with all it's cheesy meaty goodness!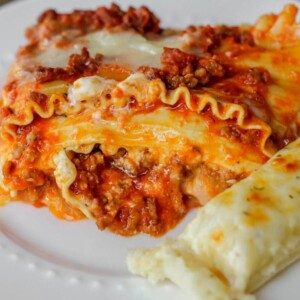 Easy Lasagna Recipe
Cuisine Italian
Prep Time 25 minutes
Cook Time 25 minutes
Total Time 50 minutes
Servings 6
Calories 983 kcal
Author Kristyn Merkley
INGREDIENTS
1 TB vegetable oil
3 tsp minced garlic
2 TB basil
1 1/2 tsp kosher salt
6 c tomato sauce
1 lb beef
1 lb pork
16 oz sour cream
2 c cottage cheese
1 c parmesan cheese
1 lb mozzarella cheese sliced
1 pkg lasagna noodles no boil
parmesan cheese to taste
pepper to taste
INSTRUCTIONS
Preheat oven to 350.
In a pan, saute garlic in Vegetable oil on medium heat for 2-3 minutes. Stir in basil, salt, a little pepper, and tomato sauce. Simmer for 10 minutes. Turn down to low and continue to simmer.
In another pan, brown your beef and pork. Add browned meat to your sauce and continue to simmer.
In a bowl, combine Parmesan cheese, cottage cheese and sour cream. Mix well. Set aside.
In a 9x13 pan, spread 1 cup of your sauce on the bottom. Layer with lasagna noodles and spread another cup of sauce on top of the noodles.
Add a layer of sliced mozzarella cheese and then half the sour cream mixture.
Then add another layer of noodles, followed by a cup of sauce, another layer of sliced mozzarella and the rest of the sour cream mixture.
Then add one more layer of noodles and the last of the sauce.
Add Parmesan cheese to the top and bake for 25-30 minutes. ENJOY!
Nutrition Facts
Easy Lasagna Recipe
Amount Per Serving
Calories 983
Calories from Fat 657
% Daily Value*
Total Fat 73g112%
Cholesterol 231mg77%
Sodium 3034mg126%
Potassium 1489mg43%
Total Carbohydrates 20g7%
Protein 61g122%
* Percent Daily Values are based on a 2000 calorie diet.