Slow Cooker Tex-Mex Chicken Stew
Slow Cooker Tex-Mex Chicken Stew
It's so easy to prepare this delicious Slow Cooker Tex-Mex Chicken Stew! Just pour the ingredients into your slow cooker and turn it on to cook!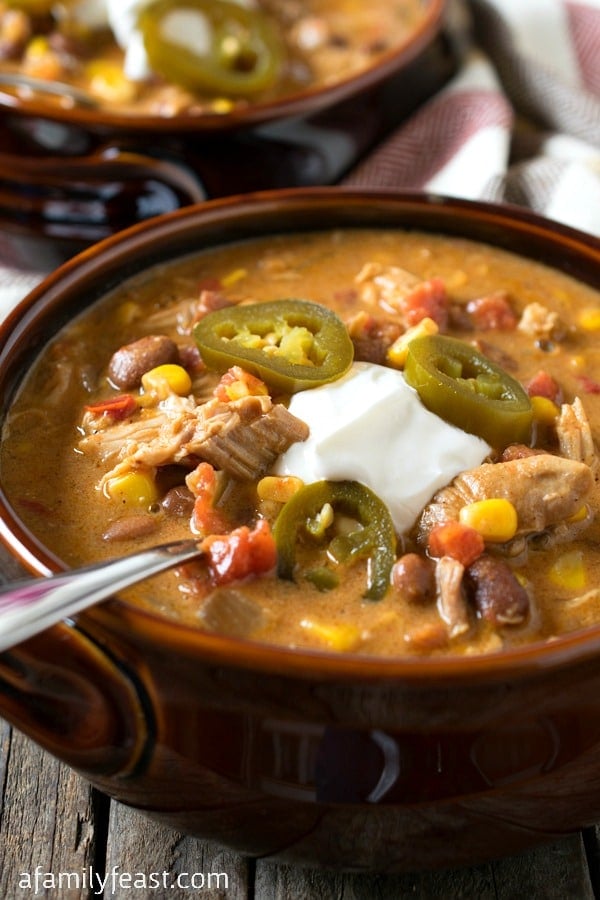 Slow Cooker Tex-Mex Chicken Stew
Author: A Family Feast
Prep Time: 15 minutes
Cook Time: 8 hours
Total Time: 8 hours 15 minutes
Yield: 6-8 servings
Category: Soup
Method: slow cooker
Cuisine: Tex-Mex
INGREDIENTS
1 12-ounce bag frozen chopped onions
2 tablespoons chopped garlic
1 tablespoon tomato paste
¼ teaspoon freshly ground black pepper
1 tablespoon chili powder
1 tablespoon brown sugar
1 14.5-ounce can tomatoes, diced with zesty jalapenos or green chiles
2 15.5-ounce cans BUSH'S® Chili Magic® Chili Starter Texas Recipe
1 14.5-ounce can chicken stock
2 tablespoons unsalted butter, softened
3 tablespoons all-purpose flour
2 ½ pounds boneless skinless chicken thighs left whole
2 well-drained 11-ounce cans corn, Mexican-style with red and green peppers
4 ounces cream cheese, softened
1 small can jalapeno wheels, for garnish (optional)
Sour cream, for garnish (optional)
INSTRUCTIONS
Place onions, garlic, tomato paste, pepper, chili powder, brown sugar, canned tomatoes, Bush's Chili Starter, and chicken stock in a large slow cooker. Stir to mix ingredients.
Mix soft butter with flour in a small bowl to form a paste and stir into slow cooker. (It will dissolve once the ingredients get hot).
Tuck chicken thighs down into liquid so that they are totally submerged. Cover and cook on low for seven hours.
After seven hours, remove chicken to a plate or bowl. Add corn to cooker and raise heat to high.
Shred chicken with two forks and add back to cooker along with cream cheese. Stir and heat on high until the cream cheese has melted and all ingredients are at serving temperature.
Serve in bowls and garnish with the jalapeno wheels and sour cream if desired.