Southern Spaghetti Sauce
Southern Spaghetti Sauce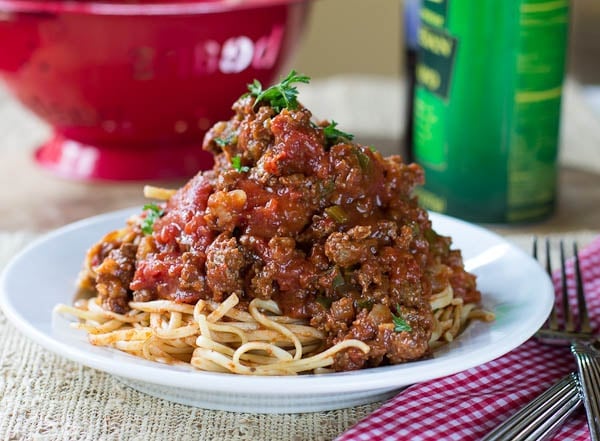 This spaghetti sauce is one of my favorite comfort foods to make and it reminds me of the sauce my grandmother used to make. It was always a treat when we got it because my grandmother only knew how to cook two things that I'm aware of- spaghetti sauce and shrimp salad. It's very thick and full of ground beef, onions, and bell peppers. A hefty spoonful of sugar adds some sweetness and cuts any bitterness in the tomatoes. Two whole cans of tomato paste give it an extra intense flavor.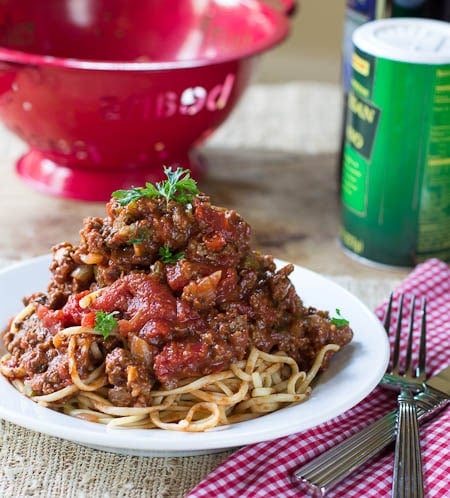 This sauce freezes really well and I'll often make a double batch of it and freeze half for a second meal.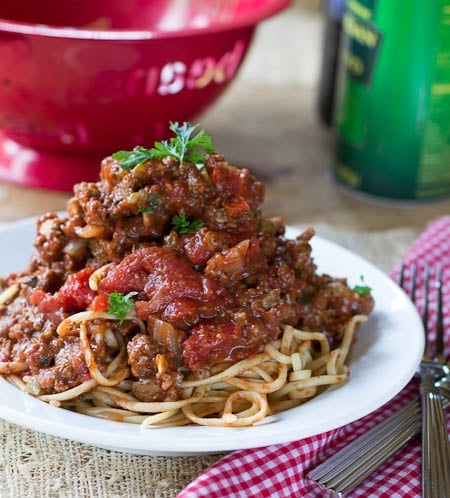 Southern Spaghetti Sauce
Thick and meaty spaghetti sauce flavored with onions, green peppers, and a little sweetness.
Course: Italian
Ingredients
1 1/2 pounds lean ground beef
1 large onion, diced
1 green bell pepper, diced
1 clove garlic, minced
2 (6-ounce) cans tomato paste
1 (8-ounce) can tomato sauce
1 (14 1/2-ounce) can stewed tomatoes
1 tablespoon Italian Seasoning
1 tablespoon Worcestershire Sauce
1 tablespoon sugar, the original recipe calls for 2 tablespoons, but I just add one
1 teaspoon salt
1 cup water
Instructions
Brown beef in a large heavy bottomed pot. Drain fat.
Add onion and green pepper and saute until onion is tender, about 5 minutes. Add garlic and saute 30 seconds.
Add tomato paste, tomato sauce, stewed tomatoes, seasonings, and water.
Simmer 3o minutes.
Recipe Notes
Note: If you're nervous about the amount of sugar, start with 1/2 tablespoon and add more if desired.
Recipe Source: adapted from Paula Deen