SPICY SRIRACHA SHRIMP TACOS
SPICY SRIRACHA SHRIMP TACOS
These Spicy Sriracha Shrimp Tacos are easy to make, have a little kick and are so fun for summer! They incorporate all my favorite elements of a good taco – a little slaw, shrimp, chunky guacamole and some sriracha sauce. Addicting!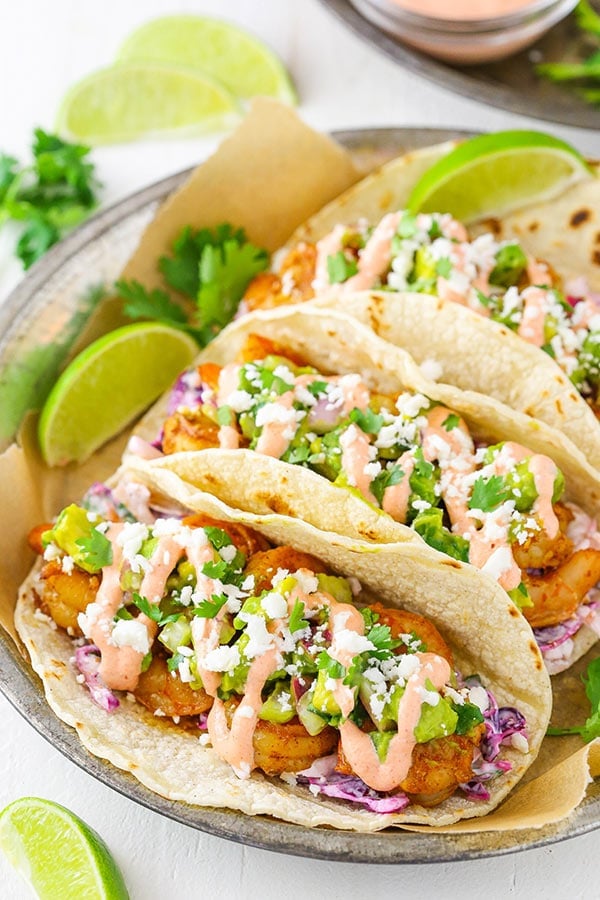 SPICY SRIRACHA SHRIMP TACOS
Author: Life, Love and Sugar
Prep Time: 30 minutes
Cook Time: 5 minutes
Total Time: 35 minutes
Yield: 6 Tacos
Category: Dinner
Method: Stove
Cuisine: American
INGREDIENTS
SHRIMP
1 lb medium shrimp, peeled and deveined (about 34 shrimp)
1 clove garlic, minced
3/4 tsp ground cumin
3/4 tsp chili powder
1/4 tsp red pepper flakes
1/4 tsp salt
2 tbsp olive oil, divided
1 tbsp fresh lime juice
CILANTRO LIME SLAW
2 cups coleslaw/cabbage mix
¼ cup sour cream
2 tbsp finely chopped cilantro
1 tbsp fresh lime juice
1 clove garlic, minced
Salt and pepper
SRIRACHA SAUCE
1/4 cup sour cream
1 tbsp sriracha
JALAPENO GUACAMOLE
1 avocado, diced
1/4 cup finely chopped red onion
3 tbsp cilantro
1/2 jalapeno, seeded and diced
2 tbsp lime juice
1 clove garlic, minced
Salt
ADDITIONAL
6 small corn or flour tortillas
Feta cheese, crumbled
INSTRUCTIONS
To make the shrimp, put the shrimp in a medium bowl and add the spices, 1 tablespoon of olive oil and the lime juice. Toss together and set aside.
To make the slaw, combine the coleslaw/cabbage mix, sour cream, cilantro, lime juice and garlic. Add salt and pepper to taste. Set aside.
In a small bowl, combine the sour cream and sriracha for the sauce. Add more or less sriracha for more or less spice.
To make the guacamole, combine all ingredients except for the salt and toss to combine. Add salt to taste.
To cook the shrimp, heat a large pan over medium heat. Add the remaining tablespoon of olive oil and heat for a couple minutes.
Add the shrimp to the pan and cook until pink and cooked throughout, about 4-5 minutes. Turn halfway through cooking. When finished cooking, remove from heat.
To assemble the tacos, spoon some slaw into the tortillas. Top with 5-6 shrimp, some guacamole and sriracha sauce. Finish off the tacos with a little feta cheese. Serve with Sutter Home White Zinfandel wine (recommended).
Enjoy!