WORLD'S BEST LASAGNA
WORLD'S BEST LASAGNA
World's best lasagna recipe is right here! The quintessential recipe for the ultimate Italian comfort food classic, this homemade lasagna recipe is the traditional dish that includes layers of pasta, hearty meat sauce, creamy ricotta, and gooey mozzarella cheese. You'll also see an idea for how to take the bolognese and cheese components of this recipe and turn it into a gluten free lasagna recipe.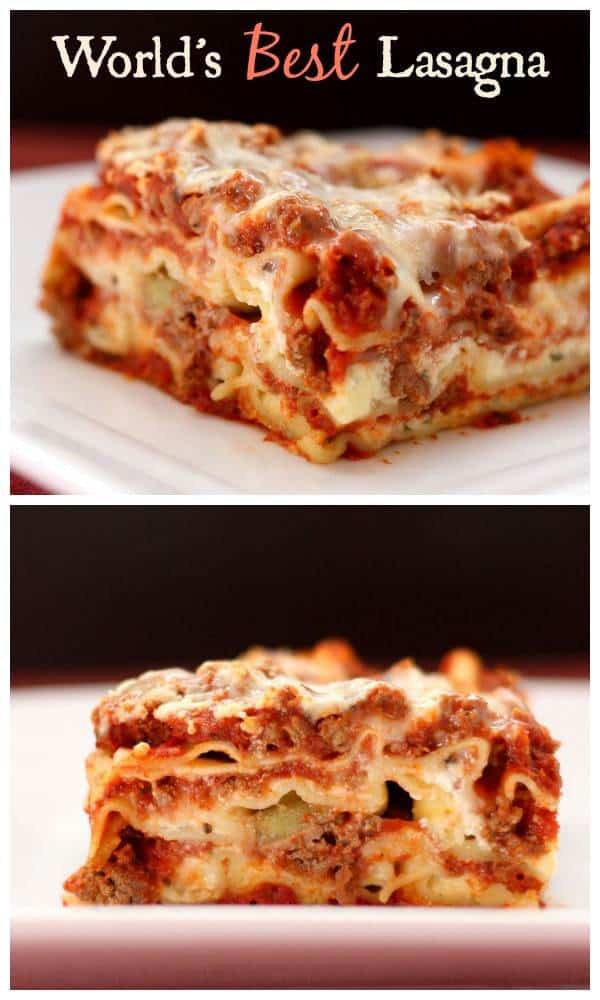 Homemade Lasagna Recipe
It's called the World's Best Lasagna, and while I can't verify that the research was actually done to make this claim, it is definitely the best lasagna I've ever made.
The sauce is made flavorful, with both beef and sausage, there is the perfect amount of cheese, and it all comes together into the perfect bite of hot, cheesy, meaty, saucy deliciousness.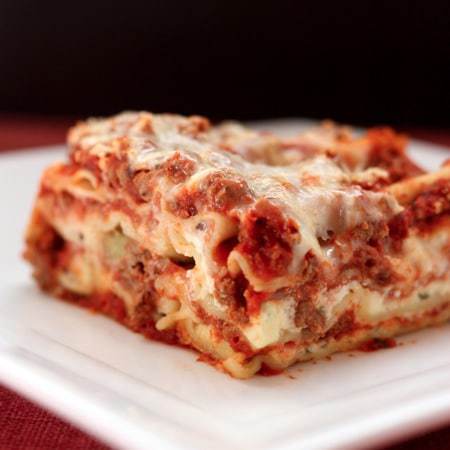 Since it is so good, I have no need to change the World's Best Lasagna recipe or make it my own, but I do make a few tweaks:
I use turkey sausage instead of pork sausage, a little less salt and sugar.
I use no-boil noodles, because this recipe is enough work as it is. And actually, I think the no-boil noodles absorb some of the excess moisture, creating nice slices.
Since the recipe is fairly time intensive, I usually make the sauce the day before I plan to assemble the lasagna. I've even baked it a couple days later, so this is definitely one you can make ahead of time.
You can freeze it before or after you've baked it, which means it's a good idea to make two since it's only a small amount of additional work and then you have one ready and waiting for you in the freezer.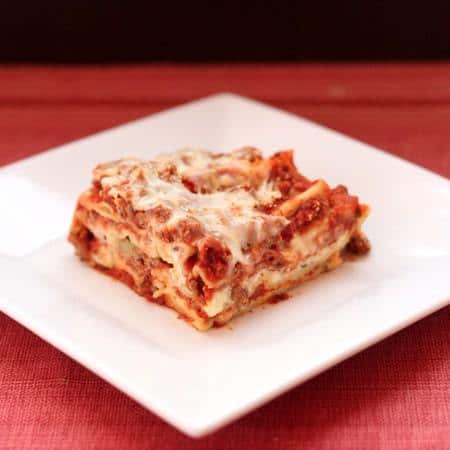 Gluten Free World's Best Lasagna
I've honestly never been the biggest pasta eater, so when it comes to gluten free pasta dishes, I prefer to substitute zoodles, like in Sesame Zuccini Noodles, or spaghetti squash as I did in this Baked Spaghetti Squash with Spicy Tomato Cream Sauce.
So for a gluten-free option that's also low carb, use some of the filling components to make a mini-lasagna, using roasted eggplant slices as noodles. When I make it this way, it's a bit sloppy, but still tastes awesome. Or you could just use gluten free lasagna noodles or make Eggplant Parmesan Stuffed Eggplant instead.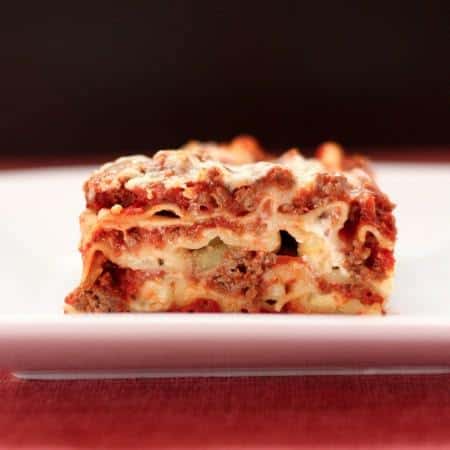 After you enjoy the world's best lasagna recipe, here are some more comforting pasta dishes to try…
World's Best Lasagna Recipe
A slight adaptation of the All Recipes lasagna recipe that is a tried and true all-time favorite lasagna recipe. It's got the layers of pasta, meaty sauce, creamy ricotta, and gooey mozzarella cheese that you know and love from the traditional lasagna, but there's just something about this sauce recipe that makes this recipe so amazing. Everyone goes crazy for it!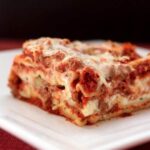 World's Best Lasagna
Prep Time 40 mins
Cook Time 2 hrs
Total Time 2 hrs 40 mins
Just the World's Best Lasagna recipe. The ultimate Italian comfort food with layers of pasta, hearty meat cause, creamy ricotta cheese and gooey mozzarella.
Course: Main
Cuisine: Italian
Keyword: world's best lasagna
Servings: 12
Calories: 449 kcal
Author: Brianne @ Cupcakes & Kale Chips
Ingredients
1 pound sweet Italian turkey sausage
3/4 pound lean ground beef
1/2 cup onion, minced
2 cloves garlic, crushed
28 ounce can crushed tomatoes
two 6 ounce cans tomato paste
two 6.5 ounce cans canned tomato sauce
1/2 cup water
2 Tablespoons sugar
1 1/2 teaspoons dried basil leaves
1/2 teaspoon fennel seeds (optional)
1 teaspoon Italian seasoning
2 teaspoons salt
1/4 teaspoon ground black pepper
4 Tablespoons chopped fresh parsley
12 lasagna noodles, regular or no cook. I usually use no cook noodles.
16 ounces ricotta cheese
1 egg
1/2 teaspoon salt
3/4 pound mozzarella cheese, shredded
3/4 cups grated Parmesan cheese
Instructions
In a large Dutch oven, cook sausage, ground beef, onion, and garlic over medium heat until cooked through and browned.
Add the crushed tomatoes, tomato paste, tomato sauce, and water, and stir everything together.
Add sugar, basil, fennel seeds, Italian seasoning, 1 T salt, pepper, and 2 T parsley, and stir to combine.
Simmer, covered, for at least 1½ hours, stirring occasionally. I usually try to simmer for as long as possible.
If using regular lasagna noodles, cook according to package instructions and drain.
In a bowl, combine ricotta cheese, egg, remaining parsley, and ½ teaspoon salt.
Preheat oven to 375°F.
To assemble, spread 1½ cups of meat sauce in the bottom of a 9x13 inch baking dish. Arrange a single layer of noodles over meat sauce. Spread with one half of the ricotta cheese mixture. Top with a third of mozzarella cheese.
Spoon 1½ cups meat sauce over mozzarella, and sprinkle with ¼ cup Parmesan cheese.
Repeat layers, and top with remaining mozzarella and Parmesan cheese.
Cover with foil and bake in preheated oven for 25 minutes.
Remove foil, and bake an additional 25 minutes.
Cool for 15 minutes before serving.
Recipe Notes
Slightly adapted from this World's Best Lasagna recipe on AllRecipes.
Nutrition Facts
World's Best Lasagna
Amount Per Serving
Calories

449
Calories from Fat 162
Total Carbohydrates

39g
13%
* Percent Daily Values are based on a 2000 calorie diet.